Amazon.com isn't resting on it's laurels with the Kindle.  The Kindle 2.0 was only just releases in February, but less than 3 months later, they already have a new model out, the Kindle DX.  It features a larger screen, 9.75 in, integrated PDF support and auto rotating from portrait to landscape.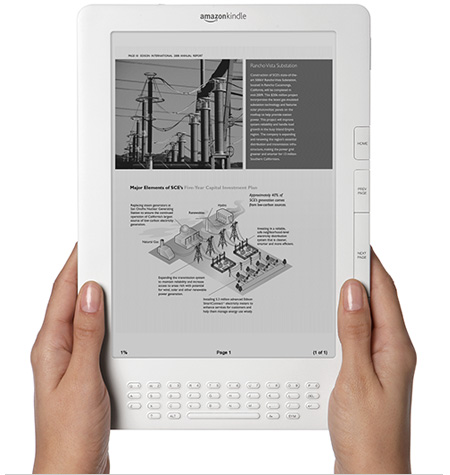 Now, Amazon.com is positioning this for the textbook and newspaper market, where the larger screen and pdf support would be most advantageous.  Screen size is always the first thing brought up when discussing these formats on a digital device.  2.0 already added highlighting and annotating features to the device.  Integrated PDF guarantees the format of PDFs will be kept intact, a problem with the other versions.  Amazon has formed alliances with textbook publishers and colleges to get these out for the fall semester as well as with newspapers who will help subsidize the cost with lengthy Kindle subscriptions.  (Think cellphones).  The DX will be available in the summer, though Amazon is taking pre-orders now.
The advantages of this new device  for manga readers and publishers are:
The larger screen makes for a "closer to book" experience. The pages should be easier to read with little to no need to zoom in.  A whole page can be displayed easily.
PDFs mean publishers can use an already established format for their titles, that can also be DRM'ed. (Not something I endorse, but publishers still need some hand-holding).
Auto rotating can make two-page spreads a reality, again with little to none zooming.
There are, unfortunately, some disadvantages to this new Kindle:
Price. Right off the bat, this device is $489.  That $130 more than the smaller screen devices.  If you thought the other versions were expensive, then this will probably seem down right outrageous.
No color. I know a lot of people have been complaining about the lack of color and/or contrast on the Kindle.  I honestly don't see this as a big deal.  The increased grey scale of the Kindle 2 which transfers over to the DX give pictures a nice range of depth.  And as for the black text on white paper…look through you manga collection and tell me just how many of those are printed on white paper.  Most of mine are on a more beige colored paper.  I don't hear any calls for manga be printed that way.  Why should the Kindle?
On the whole, the Kindle DX is a good step forward to getting the digital reading experience the same as reading a book.  The biggest hurdle, just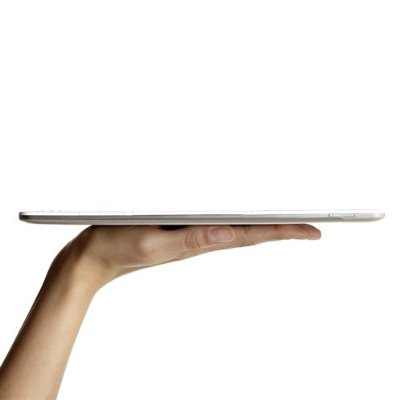 like with all new technology, is the price.  It will go down.  It's only been 18 months since the original Kindle came out.  That there are now three devices, each with improvements, shows that Amazon is in for the long haul.  And they aren't the only ones.  Sony will no doubt have something to announce soon.  The Heart Company, who is the largest newpaper publishers is looking seriously into digital distribution and making it's own e-reader as well.
The big question now is, what is Apple and Sony going to do in response.  Rumors have been running abound about a Media Tablet from Apple that may be announced with the new iPhone next month (do we really need another iPhone?)  But that doesn't sound like an e-book reader, but a bigger screen iPhone.  And, as I've thought about all the devices that are available to be used as a e-book readers, the more I think a dedicated device isn't such a bad idea.  Phones, netbooks and laptops can all be used to read e-books, but always with more cavets than an e-book reader. While the screens have color and the black/white contrast demanded by many, they are also trying on the eyes.  Phones need the books to be reformatted to fit the smaller screens.  And all compete for your attention to do something other than reading.  A device dedicated to e-books will have you doing just what you intended to do when you picked it up.  Read.
And with 3 gigs of memory, which is worth 3500 e-books, if I can't have a dedicated library in my house, then I'll take one that can fit into my purse.