I'm sure everyone's heard by now about Viz's insane idea to catch up One Piece with the Japanese releases.  They announced at Anime Expo that they will release 30 volumes in six months starting in January 2010.  That's 5 volumes a month!  Back in May, when it was first announced that current One Piece chapters would start showing up in Shonen Jump, I wrote what I thought of that decision.  Viz was nuts.  I thought they would try to do it in the span before the chapters came out.  I was wrong about that.  But their response is no better.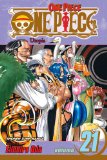 The Naruto mass releases may have worked for Viz so far because the first set happened before the economy took a dive and was broken up with a year in between to get 22 volumes out.  Add to that the outrageous popularity Naruto commands, and you can see why Viz could get away with it.  One Piece is a different story.  Even though it should be as popular, if not more than Naruto, it's not.  It missed it's opportunity to be a hit years ago when the anime was on TV and toys were on the shelf.  Now, it's the loyal fanbase that's reading it, that is definitely smaller than Naruto's.  But Viz is assuming a lot if they think that fanbase, which reads more than just One Piece no doubt,  is going to be able to buy it's 5 volumes as well as their other titles every month for six months.  The first Naturo waved showed a drop in sales for Viz's other releases.  The second no doubt did as well, and possibly more, as the economy had already started to take a dive.  There is no way fans and casual readers will be able to absorb this wave and the price increase in the Shonen Jump line.  It's asking too much.
What really bothers me about this and the Naruto waves to a lesser extend, it that One Piece and Naruto have been in Shonen Jump magazine since the beginning (Naruto joined on the third issue).  It's been 6 years that Viz could have done something about the gap between the US and Japanese releases.  6 years! They could have easily "graduated" the titles from the mag until the releases caught up and then put them back in the mag if it's so important for them to be there.  But apparently it was more important for Viz to build a boys magazine that is based on anime, video game and card game properties than give a damn about the readership.
So what's the point of jumping One Piece releases up now?  For the same reason Bleach was moved to Shonen Jump and Naruto has stayed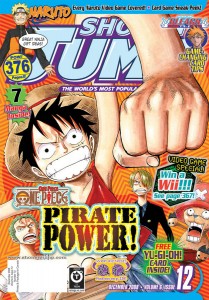 through all it's waves.  It's all about the tie-ins.  Funimation was supposed to start showing simulcasts of One Piece in May, so the manga had to catch up to the anime so fans would watch (and hopefully) buy both.  Shonen Jump has been made and continues to be a promotional vehicle not so much for manga, but for the anime and other merchandising.  This has become the way of licensing.  If there's an anime, the manga will be licensed.  If a manga is licensed, and an anime comes out, you can just count the months until the anime is licensed.    Shonen Jump features are and will continue to be all about the anime, the card games, the video games based on the manga.  I don't read the articles in Shonen Jump because they are all just text commercials for products I don't care for.  Can't be about anything interesting or informative.  Apparently boys don't like that. And Shonen Jump is just for boys, never mind all the girls that read it as well.
At least in Shojo Beat, some time and thought had to be put into their features.  Puts Shojo Beat's cancelation into a whole new perspective now, doesn't it?