Even though this strip is 3 years old, it still describes the experience of SDCC fairly well.  The only thing that needs to be added are the lines.  Yes, the infamous SDCC lines were back this year and worse than ever.  We got to the con at sometime after 10am and walked the Exhibit Hall for most of the morning.  My husband took lots of pictures of toys, including a few for me.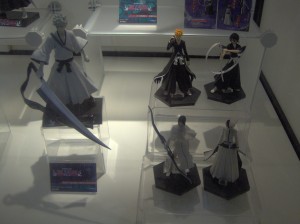 The Ichigo Hollow is Toynami's exclusive for this year.  I'm going to try and get it tomorrow.  I did get my Viz bag for the year, which was on my list of must-gets for the weekend.  I had to buy a copy of 20th Century Boys volume 4 to get it.  I had most everything else the viz store was offering already.  Too bad I haven't read volumes 1-3 yet, otherwise I could have had something to keep me busy while I was standing in line.  I was also able to finish off my series 3 Indiana Jones figures by finding Dr. Elsa Schneider, and I found a series 1 Doctor Who of the Slithline and Space Pig for a good price.  I should have picked up the Captain Jack Harkness with Empty Child when I saw it, but oh well.  If you want to see my toy collection, you can go to our Toy Database, which includes pictures of everything.  The ones I collect are Bleach, Doctor Who, Fullmetal Alchemist, Harry Potter, Indiana Jones, Inuyasha, and Queen Emeraldas.
We've been disappointed with the selection in the Exhibit Hall so far this year.  We've scored a few finds, sure, but it's nothing like last year.  There has been a lot of manga either so far.  There's one vendor with a wall of manga I have to check out, and one selling sets or runs of particular titles.  I still need to check out the Tokyopop and Yen Press booths.  I got samplers from Del Rey and Darkhorse.  I need to check the Viz booth more closely for new sampler from them.  I walked the DC booth, and once again, saw ABSOLUTELY NOTHING from CMX, other than the banner that always has Vertigo artists in front of it.  What happened to the big sampler CMX was bragging about at AX?  Did they run out?  Did they not bother to bring them to SDCC?  This is the second year in a row that I've gone to the DC/CMX booth to find NOTHING for CMX.  What is the frickin' deal?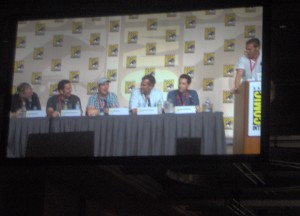 Couldn't get to the two manga panels today, though I would have liked to have gone to the Best/Worst panel.  We did get to the Burn Notice panel in Ballroom 20.  The line for that room is set up like a ride at Disneyland.  Lot of twists and turns that turn on themselves and take you back where you started.  But it was worth the wait just to see and hear Bruce Campbell.  Michael Shanks moderated.  While all the panelists were great, Bruce just made the panel, especially when someone would ask a question that promoted his character or just shouted "I love you!"  He called them up and gave them money.  It was too hilarious!
And then we waited another hour for the Mad Science: The Science of Science Fiction,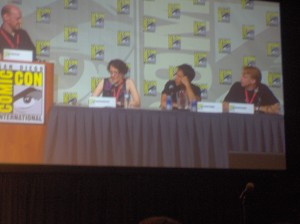 which feature the writers and scientific advisors from Eureka, and Fringe, and a writer for the new series, Caprica.  It was hosted by Bad Astronomy blogger Phil Plait.  It was interesting to hear the writer's take on writing on the near future of science and how to make it interesting to audience without boring them with the technical details.  The scientists on the panel also had some interesting things to say about the real science that we see in these shows and how they work with the writers.  We also got to see new scenes from the rest of Eureka.  Hee hee!
Tomorrow is going to be more of the same.  Stargate Universe is in the morning, don't know that we'll make it in time.  And then there's the Rifftrax Live in the evening.  If I couldn't get into the manga panels today, I don't have high hopes for tomorrow, but we'll see.