Day two started out with a real breakfast.  Eggs, pancakes, french toast and toast.  This hotel is awesome!  It's a lot better than the fast food sandwiches we usually end up with.  Didn't make it to Stargate Universe, but we weren't looking forward to the line, and we were tired last night.
So, it was another day in the Exhibit Hall.  It was more crowded than yesterday, to be expected, so getting to tables was a real challenge.  The selection at tables definitely improved today, as a picture of our purchases shows.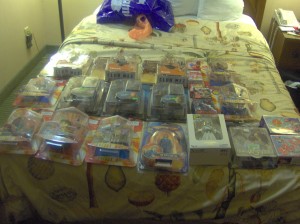 Hollow Ichigo is up front as you can see.  I go some more series 1 & 2 Doctor Who figures, including  the Captain Jack & Empty Child I missed yesterday, and 1 of the exclusives from Character Options; The Sixth Doctor in Blue Outfit from REAL TIME.  I'm also a real sucker for gashapon, so I picked up a box from a couple of series; Fullmetal Alchemist chibis, and Galaxy Express 999.  I got 2 and have yet to get a Captain Harlock.  And there's 3 in the set!  I've got Queen Emeraldas and a Machine Man.
The one vendor that had a decent selection of manga of course, didn't have the single volumes I've been trying to fill!  Oh, Muyho & Roshi #6 and Nana #16, why must you continue to evade me so?!  As just as I had hoped, Yen Press had free issues of the newest Yen Plus.  Expect a "1 Year Later" review later.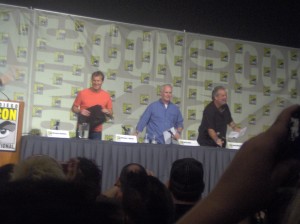 We only made it to one panel today, Rifftrax Live in the evening, and to do that, we had to line up for the panel before it, Marvel Digital Comics.  Half Most of the people in line with us had the same idea, so sorry Yen Press, I couldn't go to your panel, but the Rifftrax was so worth it!  Mike, Bill, and Kevin riffed a safety short, Shake Hands with Danger.  The short was bad, and the riffing was good.  After the short, instead of asking for questions, the audience was asked to give suggestions of movies for the next movie the crew would be riffing.  Some suggestions were: Shawshank Redemption, Super Mario Brothers Movie, Mortal Combat 2, Highlander 2 (The Quickening!), Tango and Cash, and Dragon War.  Speed Racer was shot down immediately.  Apparently, there is some bias against that one.  The winner turned out to be Dragon War (but I liked that movie!  Well, I liked the dragon anyway…)  The guys were riffing the suggestions too.  It all ended too quickly.  They could have gone on for another hour, and we would have all stayed with no problem.
The best parts of the day weren't all con related.  One that was, was meeting and talking with Ali Kokmen.  He was wearing a bow tie today.  Del Rey's PR person had just gone to lunch when we got there, but it was fun talking to Ali, as he pimped the new Del Rey comic The Talisman.  This seems to be the way my luck always runs with manga publishers and SDCC.  Another one was watching my oldest daughter read the Del Rey Manga sampler at dinner. Of course, I have to question how closely she was reading them, since she didn't notice the switch from right to left, to left to right, and read a whole preview backwards.  Yes, my daughters are strange.  The last was after we got back to the hotel, the kids went swimming in the pool.  My oldest was reluctant at first, but once we got there, and she saw someone else her age swimming, she suddenly started having fun, and didn't want to leave when we were finally kicked out.  It was a nice mommy moment watching them swim and have fun with other kids they'd just met.
Tomorrow, the must hit panel is Mythbusters at night, which may very sadly require us sitting through Vampire Diaries, but my oldest has said she will endure for it, so, so will we.
And, just for the person who asked about the Viz bag: