It's just another night on the prowl for vampires for Kyrian of Thrace when he meets the most frightening thing imaginable. And accountant. But Amanda Devereaux is much more than she seems. Hunted by one of the deadliest of vampires, Amanda is the key to our survival. If she goes down, so does he, and –no offense– he doesn't want to die (hence the whole immortality thing). And he doesn't want humanity dead either, which is a good thing for us since he and Amanda are all that stands between us and oblivion. Let's hope they win.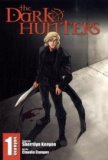 The Dark Hunters Volume 1
Story by Sherrilyn Kenyon; Art by Claudia Campos
Publisher: St. Martin's Griffin
Age Rating: 13+
Genre: Supernatural/Romance
Price: $9.99
Rating:





This title is an adaptation of a series of novels written by Sherrilyn Kenyon.  This first series is based on the novel Night Pleasures.  Kyrian is a Dark Hunter, a Greek who thousands of years ago gave up his soul to the goddess Artemis to help defend mankind from the Daimons, vampires who can only live for 27 years and seek immortality.  Amanda Deveraux comes from a family steeped deep in the supernatural.  All she wants is a normal, boring life.  Fate seems to have other ideas.
I'm not much for vampire romances.  My tastes for vampire stores runs in the comedy (Chibi Vampire) or more action oriented (Vampire Hunter D, Hellsing).  But I love the idea of OEL titles adapting popular novels, so when I was offered the chance to review this title, I jumped at it.  And boy am I glad I did!  I loved this title from beginning to end!
What makes this title so great is the characters.  Amanada and Kyrian have a snarky, sarcastic relationship in this first volume,a kind of relationship that I really enjoy seeing.  From the moment the two are handcuffed together, the barbs start flying between them.  There banter is was fun and funny at the same time.  I especially enjoyed the Buffy the Vampire Slayer references that kept creeping in.  Being from a family of Vampire slayers, psychics and other mystical beings, Amanda isn't ruffled by the situations that her association with Kyrian throws at her.  She more annoyed at the disruption of her "normal" life.  Kyrian is just as annoyed at having Amanda around, as he likes to work alone, but in the typical opposites attract style, they are drawn toward each other.  To the story's credit, this doesn't feel contrived.
The story itself is pretty straightforward.  This first volume gives a lot of background on not just who the Dark Hunters are, but on Amanda and Kyrian, making them easier to relate to.  The paths they've chosen for their lives are understandable, so there are no mysteries to distract from the inevitable romance.   The romance grows slowly and builds.  There is no instant attraction between Amanda and Kyrian, making it all the more easy to accept.
The art is drawn by Claudia Campos, a resident of Sao Paulo, Brazil.  The line art is well done, often with characters on sparse backgrounds, given them all the attention.  There is a lot of action in the story, and Campos pulls them off without things getting confusing or hard to follow.  While I'm not familiar with the descriptions of the characters in the book, I liked Kyrian's and Amanada's looks.  Campos relays the emotions of the characters beautifully, enhancing the story in ways only art can.
Overall, Dark Hunters is an exciting and fun story.  The lead characters are engaging and the world created for them to live in is wonderful.  While I can't say how accurate the adaptation from novel to manga was, this first volume definitely has me interested in the Dark Hunters universe and has left me hungry for more.  I can't wait for the next volume!  This title gets my highest score.
Review copy provided by publisher