Another manga publisher has jumped on the Kindle bandwagon.  Seven Seas has announced that some of their titles will now be available for purchase on the Kindle.  It's good to see manga publishers embracing e-books, but I would hope they are looking not just at the Kindle/iPhone, but beyond at the other devices that are coming out.  Soon.
ASUS, the creator of the Netbook that shook up the Laptop market is looking to do it again, this time to the E-book Reader market.  This device,  scheduled to be released at the end of this year, will have dual touch screens, color display, and a hinged spine, so the device opens just like a book.  But wait!  There's more!  This Reader will also have a wireless connection for web surfing, and speakers and a webcam for Skype calls.  With the dual touch screens you'll be able to read on one screen, and surf on the other.  There's also a virtual keypad, so the device can be used like a laptop.  So it's more than just a simple E-book Reader, bringing it closer to what I imagined would be the perfect portable Reader.  And the best part of all this?  ASUS is shooting for a price of $150.  That's even cheaper than a Netbook!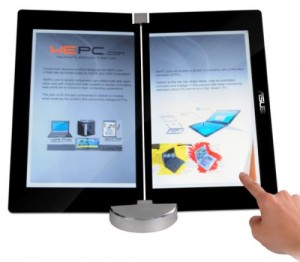 Blog posts about this device have put it down for not having a cellular connection that the Kindle and Sony Daily Edition will have.  I don't think that's going to be as much of a detriment as these articles imply.  The reason the cell connection is so important in the other E-Readers is, that's all they do.  They are single purpose devices that need the instant gratification to be really seen as useful.  But this device, which seems to be a hybrid of the netbook and E-Reader can do more.  A wi-fi connection, which is sufficient for a netbook should be sufficient for this as well.  I don't think the price is too high either, for the functionality that ASUS is promising.  As long as they come through.  But considering their success with the netbook, I don't think that's going to be a problem.
This is good news for me as a parent too.  The California Legislature passed AB1398 (bottom of the page), a bill that would expand the use of digital textbooks in public schools.  It removes restrictions placed on school districts that want to buy E-Readers.  Guess who opposed the bill?  Yup, the textbook publishers.  Sorry, but I shouldn't see my kids having back problems from carrying 40lbs of books, or schools wasting money by buying two sets of texts books; one for the classroom and one to take home.  An e-reader with inexpensive books that parents buy and kids can mark up like college text books, is a better option all around.
So, while it's tempting to jump on the Kindle bandwagon, I hope manga publishers will keep an eye on this device.  The Kindle has issues of it own, beyond price.  An internet tablet, which this is more akin to, is much more practical and will have a wider reach that the single purpose devices.  Especially if you're a publisher that has expanded to the web.  The battle of the E-readers is far from over, and getting more interesting by the minute.