Amazon's been sitting pretty so far with their Kindle 2 and Kindle DX.  The competition has been fairly light, with Sony's E-Reader being recognized as it's only real competition.  But with Christmas just around the bend (3 months away as of this writing), retailers are starting to make their announcements now, just in time for holiday shopping to begin.
Two big retailers are throwing their proverbial hats into the E-Reader ring.  Verizon and Best Buy are backing the iRex, a touch screen E-Reader.  Already a well known brand in Europe, the iRex is coming out in the US with an 8.1 in touch screen and 3G wireless connection provided by Verizon Wireless, and will be sold through retail giant Best Buy.  The device will retail at $399.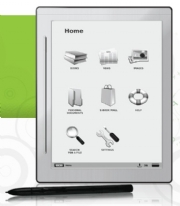 This device seems to be the perfect balance between the Kindle and the Sony E-Reader.  It's screen size sits right between the Sony 7 in and Kindle DX 9 in.  Unlike any Kindle, it has a touch screen, but uses a different touch layer than the Sony for improved screen brightness.  You can't buy books from Amazon.com, but you will be able to shop Barnes & Noble's e-book store with it, as well as Newspapers Direct, a site with 1100 newspapers online.  Because it uses Gobi Radio from Qualcomm, the wireless network can be used outside the US, opening the market to international buyers/users.  It will also support several different open and DRM formats, including E-Pub, the most accepted open e-book format.  And when the Google book deal goes though, this will increase the available books by 10 fold.
If you wanted a single use device for just reading e-books and newspapers, this looks to be the best option.  It takes the best of the two most popular e-readers and combines them into one.  Of all the cell carriers you'd have to deal with, Verizon is the best for coverage in the US.  The only problem with this is the same as with most of the E-Readers introduced so far; price.  $399 does put it on par with the rest of the market for bigger screen readers (Sony Daily Edition: $399/Kindle DX $489), but it's still way above what most people think is reasonable for an e-reader.
I'll check this out when they become available at Best Buy, not that it's my favorite place to be during the holidays.  My shopping happens all online anymore.  Fast, easy, cheaper, and NO CROWDS.  But I do want to get my hands on the iRex and Sony E-Reader at the very least and see if they live up to all their hype.
The iRex looking to not be some dog of a device, but my favorite is still the ASUS Eee-Reader.  It's cheaper and isn't a single purpose device.  But if a single purpose device is what you're looking for, give the iRex a chance.