For a long time digital manga has mostly been in the realm of scanlation, but publishers have slowly been moving online.  Tokyopop had been putting it's OEL manga up as chapter previews and some full volumes for promotion, and Netcomics has always had it's chapters available for a fee.  This year though, we've seen an explosion of digital manga online and in e-book form.  Let's take a look back at what 2009 has brought us.
The biggest move this year came from Viz Media.  In the spring they announced and brought out the first Japanese-US simultaneous release of a manga, Rumiko Takahashi's Rin-Ne.  Then in the summer, just before San Diego Comic Con, Viz announced two more online manga sites.  First was a colaboration with Ikki Comix, a mature, i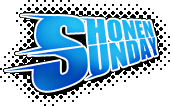 ndependent comic magazine in Japan.  It debuted with Children of the Sea, but quickly added several more titles, covering a wide range genres.  A week after the announcement of Ikki Comix came the announcement of Shonen Sunday, which included several titles currently running in Shonen Sunday magazine, as well as older titles already released here in the US such as Kekkaishi, Inuyasha and Detective Conan.  This is a real boon for US readers to be able to read new titles from Japan legally as well as older titles they may have wanted to try before buying.
Sites that already offered manga online, few as they were, worked to dress up themselves up to attract more readers.  Netcomics, the mostly Korean manhwa site, started offering manga from Aurora publishing.  While the site has offered titles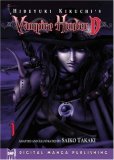 from US creators, this was the first time that another publisher has worked to offer their work on another publisher's site.  And for Aurora who's been having problems this year, this gave them a less expensive venue to release their books.  We don't know how it's done for them, but hopefully it's done well.  Digital Manga Publishing relaunched their eManga.com website.  While the site is dominated with it's BL titles (much like it's catalog), some of their non-BL titles are available as well, such as Vampire Hunter D and the Let's Draw Manga series.  In the last few month of the year, they also added Harlequin manga, adaptations of Harlequin romance novels, expanding their reach to shojo and josei.  Tokyopop finally stepped up for it's fans of some of its OEL titles.  Starting with Psy-Comm volume 3, they released a chapter a week for free.  Other titles include Earthlight and Replay.  These titles are available online only, but at least they are available.
Manga on the Kindle and iPhone grew by leaps and bounds.  Digital Manga Publishing led this growth.  A search of the Amazon Kindle store shows mostly their BL titles (again), with Vampire Hunter D and the Let's Draw Manga series as their non-BL titles available.  Many of the manga titles can also be found on the iPhone.  Seven Seas has also put up a lot of their OEL titles on the Kindle.  Yen Press still only has Maximum Ride, yet they don't promote it.  Manga University's collection of Kanji de Manga are also available, making learning Japanese on the run fun!  Over on the iPhone you can also find the Astro Boy Magazine, which features manga by Osamu Tezuka.  With e-readers becoming more popular, let's hope more publishers  jump on this bandwagon.
And speaking of e-readers, 2009 has literally exploded with new device announcements!  Amazon is constantly coming up with new versions of it's already wildly popular Kindle.  The Kindle 2 came out in February, followed closing behind by the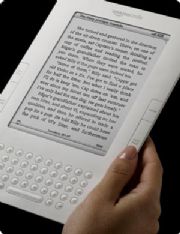 Kindle DX
, a larger screen version aimed at schools, and the International Version
, which makes it's Whispernet available outside the US.  Sony was right behind Amazon with three versions of it's e-Reader.  The Pocket
is it's starter device, Touch
is slightly more expensive with a touch screen and the Daily Edition, which is a rival to Amazon's DX, with a larger touch screen.  The Sony devices still lack a wireless connection.  Barnes & Noble's Nook doesn't.  Boasting a color navigation screen and AT&T wireless connection to the Barnes & Noble online book store, the Nook has already sold out and looks to be more of a rival to Amazon than Sony.  The iRex, which was supposed to be available by Christmas, but hasn't seem to come out yet, is backed by Best Buy and will feature wireless connection from Verizon.  Other devices were announced, but there's been no sign of these either.  Asus promised a hybrid computer/e-reader by the end of the year that was most reasonable priced of the the device at around $150.  The Crucnhpad, a device that was supposed to come out from Tech Crunch got hi-jacked by manufaturer Fusion Garage and has been renamed Joo Joo.  And there's still that rumored Apple tablet, though I don't see it really fitting in the e-reader category from the information coming out.  Certainly not with a price tag of $1000.
Scanlators found a way to get themselves into the limelight, though I don't know how smart that is on their part.  The fact that a search for a manga on Google usually yields sites such as Onemanga and Mangafox well before any legitimate sites can't sit well with publishers.  Neither should the fact that these sites host direct scans of publishers titles instead of alternate translations.  But, Manga Helpers, a website that hosts scanlated manga, seemed to be trying to become the Crunchyroll of manga.  A letter leaked from them to Viz Media suggested that they could host Viz's manga with their translations caused quite an uproar among the MH community and bloggers outside of it that supported legitimate releases.  Comments by Stu Levy in the December 2 Tokyopop Insider webcast suggested that it was possible the publisher was in talks with such a site, and may even be Manga Helpers.  Twitter was divided on this, and this issue will continue to do so in the coming year if it is pursued.
It's been an exciting year for digital manga with all that's happened, and 2010 is looking to be just as exciting.  As publishers continue to reach out into the online realm, we as fans of the genre need to support them.  Read digital manga on the official sites, not on scanlation sites.  Post comments and reviews when they ask for them so they know we're watching.  And most of all, buy the volumes of the titles you really enjoy.  That's the best support you can give.  Show them that we appreciate all their hard work in bringing so many great titles to us.