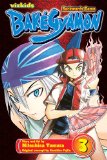 BakéGyamon Volume 3

By Mitsuhisa Tamura
Publisher: Viz Media/Vizkids
Age Rating: All Ages (8+)
Genre: Game
Price: $7.99
Rating:





The battle begins in earnest as the final 32 contestants are paired up tournament-style.  With the playing field a mock Tokyo Tower, there's only one way to go…up!  Sanshiro will now have to use his battle skills against the very people he wants to befriend!
This volume falls into the tournament style of fighting that most shonen titles eventually get to.  But unlike those shonen titles that become tired and uninteresting in their constant need to power up, this volume doesn't fall into that trap.  Sanshiro remains true to himself, and while his goal is now to win the game, he won't sacrifice his monsters or having fun to do it.
This volume is dominated by just one game, Pushing Buns.  Basically you either push your opponent off the side or beat him to submission.  Who will fight who is completely random, as the paths going up the tower connect unseen.  We see fights by a couple of the other players before getting to Sanshiro's first battle.  While Sanshiro originally joined the Bakegyamon to have fun, he has found a purpose in his genki fu cards.  They aren't all in the game by choice and they have feelings.  Sanshiro's goal now is to free all the genki fu cards.  Even in battle, he will do everything he can to win without hurting his opponents genki fu.  He manages to get this feeling across and win his first battle.  His second turns out to be a non-starter, for comedic reasons, but the third turns out to be more serious fair.
What really makes this title and keeps it fresh is it's protagonist, Sanshiro.  Strong in his convictions, he still always has a smile for anyone and his friendliness is infectious.  He seems clueless and in a way this attitude is disarming of his fellow players, so they let their guard down around him.  After the first round, there is a chapter with the remaining players in a hot springs hotel that just springs out of the side of the Tokyo Tower.  Everyone is suspicious of each other and distant, but Sanshiro manages to break down the walls with his enthusiasm and openness.  And that enthusiasm isn't limited to the characters in the book.  While reading this volume, it was almost as if I could feel Sanshiro's enthusiasm for fun myself.  It was a great feeling while reading and stayed with me for a while after.
That doesn't mean Sanshiro can't be serious when he needs to be.  He is very serious about protecting not just his genki fu, but of the other players as well.  He has really connected with his cards, and it shows in the battles as he can get one monster to over come his fear of heights and fight with him.  When he takes on Raiya, who wants a "life or death fight," Sanshiro gives him one, just not the way he expected him to.  I really like how Sanshiro can be whatever his opponent needs him to be without betraying himself of his beliefs.  He is really a guy you can't help liking because he's so straight forward and honest with his feelings.  What you see is what you get with him, and that's a really good feeling.
I still think this is a great title for kids.  Sanshiro is good role model for kids.  He's friendly, open and honest.  He fights for the underdog (the genki fu), and does his best to keep anyone from getting hurt.  These are some inspiring themes that I don't think kids see enough of.  And what makes this title so great is that it's a fun read to boot!  Both boys and girls will love the action and thrill of the games.  I definitely continue to recommend Bakegyamon.