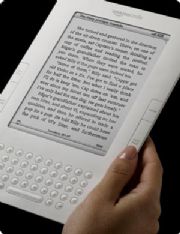 This year is being touted as the year of the slate computer.  CES was filled with announcements of new computers that are like over-glorified e-book readers.  Of course, e-book readers are also being announced right and left.  This Christmas was Amazon's biggest year for the Kindle so far, and claimed that on Christmas day sold more e-books than print.  But the worth of e-readers like the Kindle and Sony's E-Reader are being questioned.  Well, more specifically, the E-Ink technology they use is being questioned.  E-Ink techonogy is one of the main reasons prices for e-readers remain high.  So, is E-Ink worth the price?
A quick and easy way to decide this is to look at the pros and cons of E-Ink.  On the pro side, e-ink use uses less power.  It only needs to charge the screen one with each page turn, so the over all power usage is low, and an e-reader can go for days or even weeks (without a wireless connection).  It is also supposed to be better on the eyes.  You can read e-ink for longer and not suffer from eye strain than say an LED screen.
The cons for e-ink are about as many as it's pros.  The first one that is always brought up is the low contrast.  E-ink is black on a gray background, so the text doesn't stand out as well as black against white.  It also doesn't do so well with pictures as everything is rended in gray scale.  The other, and biggest complaint is the slow page turns.  E-ink can take up to a second to refresh the page, and it flickers in the process, which can be distracting.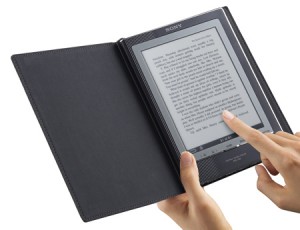 Tech reviewers that I've heard and read seem to play up the cons and downplay the pros.  They question if LED is really that bad to read on.  And the speed, or lack there of, really seems to annoy them.  So the question becomes are these things really that much of a deal breaker?  I finally got to play with an e-reader with e-ink.  Staples had a Sony e-Reader on display and I played around with it.  And I have to say, I think, as a consumer, I think they do have some valid points.  The biggest I will agree with is the flickering as the page changes.  The speed isn't so bad, but the flashing of the screen as it redraws was downright distracting.  I'm sure I could get used to the black on gray contrast.  I've read some books on not the best paper, but I think my eyes would like greater contrast better.
So, is e-ink worth all the attention it's been getting?  Is it what makes an e-reader and e-reader?  Can an e-reader with an LCD screen still be considered a reader or a pc tablet?  Personally, I don't think the e-ink makes the difference.  It may have spurred the current e-reader market, but whether a device has it or not doesn't decide it's function.  LCD or e-ink, a device that only read books is an e-reader.  A device that does more is a tablet.  It isn't form but function that matters.  And as for e-ink?  As long as it has the flicker, I'm not interested.  It's nothing like turning a page.  The world doesn't go blank and suddenly reappear for a page turn.