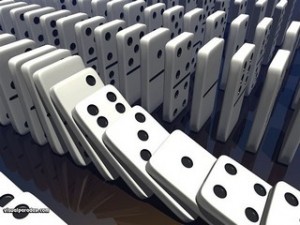 Just days after Amazon conceded to MacMillian's demands for an agency model for e-book pricing (ie, variable pricing), Robert Murdoch's Harper Collins started rattling it's saber that it wanted the same deal.  By the end of the week Hachette had joined Harper Collins.  So like dominoes, the major publishers are falling in line to continue their old publishing strategy of initial high price (hardback), price drop 1 (trade paperback) and price drop 2 (mass market paperback for digital books.  Since Amazon capitulated to MacMillian, they will have to do the same with the publishers.
This development does bring up some questions about the future of digital manga.  Since 2002, manga has been at the price point of $9.99.  That seemed to be the sweet spot that helped it to grow to the point we see it today.  There has been some variation on that, with publishers trying a lower price point of $7.99 for more popular books and a higher price point of $12.99 for titles with a more dedicated audience.  With the dip in the economy, there was a rise in several titles, but because these changes have been by only a few dollars, fans have beared it.  But what's going to happen if/when we start seeing digital manga?
Publishers claim that Amazon's price point of $9.99 "devalues" books because it puts the e-book at lower than a hardback.  I don't see their point.  Am I "devaluing" a book if I choose to wait for the mass market paperback, which is often 5 times less than the hardback?  Hardly.  I'm making a choice to get a smaller and less expensive book.  Pricing an e-book at $9.99 doesn't devalue it in anyway.  What it does is throw publishing's old model out of whack, and just like the music and TV and Movie industries, they don't like the boat to be rocked.  Music and Movies are still kicking and screaming even though they've probably seen more growth in the last 10 years than in the previous 20.
Will manga become subjected to the same kind of pricing when it becomes digital?  The public's perception is going to be that digital manga be priced at probably half its print price, around 5.99-6.99.  All three of the publishers pushing for Amazon's change  are also involved in manga.  MacMillian publishes distributes First Second and Seven Seas Entertainment.  Harper Collins publishes Tokyopop's YA adaptations, and Hachette is the parent of Yen Press.  Will these publishers push for the same arrangement for our favorite titles as for their prose titles?  Will we start to see more variable pricing in our manga than we already do?  I hope not.  The pricing structure we see now, which is based on demographics seems to be working.  And there's no reason to fix something that isn't broken.  We don't need to see any more publishers falling into this line that may do more harm than good in the end.  Hopefully manga publishers won't be as short-sighted.