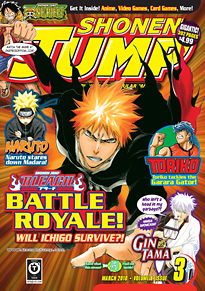 There's no real news in this month's Shonen Jump, which is kind of surprising.  You'd think they would want to start hyping any new titles coming soon now.  But not this month.  So what do we learn in this issue of SJ?  I learned that Bleach has entered the endless "lather, rinse, repeat" mode of shonen manga.  I still don't find Gin Tama funny, and the magazine is going to get boring real fast if they don't add something that isn't just about fighting.
The magazine starts off with the second preview chapter of Toriko.  Toriko faces down Garara Gator, and the outcome of both the battle and chapter isn't surprising.  I still get a "meh" feeling from this series.  Neither Torkio nor Komatsu really interest me. But I'm not really a foodie, so this might just not be a title for me.
Bleach has Ichigo getting his butt handed to him by Ulquiorra, who turns out to only be the 4th strongest of the Arrancars.  Ichigo of course can't defeat him or even outrun him.  So, I'm sure we can now look forward to more training for him so he can level up to defeat Ulquiorra.  And is it too much to hope that Rukia is really dead?  Yeah, I know it is.  I just don't like her.  She makes Ichigo go emo too much.  And I hate emo-Ichigo.
Ultimo has pretty much lost me with this chapter.  It was bad enough going for the "best friends are now enemies" story line, but now Rune is revealed to be a love from a former life that is jealous of Yamato's crush on Sayama?  Umm…no thanks.  Moving on.
One Piece continues Luffy's battle to get to Level 5 of Impel Down.  He only gets as far as Level 4.5, Freezing Hell, before an ill advised attack on the warden, Magellan, seems to be the end of him.  But, Mr. 2 Bon Clay may know of a way to save Luffy, if he can find the King of the Queens.  The battle with Magellan got kind of boring as Luffy kept throwing himself at the poison-laden warden, that you just knew he couldn't beat.  But I think part of that feeling comes from the monotony that Shonen Jump is getting into with nearly all of it's titles having the heroes in some great knock-down, drag-out fight.  I love One Piece, even it's long battles, but it can really wear on a person.
This chapter of Tegami Bachi is the final one before leaving Shonen Jump.  It's not a bad story.  It has Lag making a special delivery for the Head Bee, though the package doesn't turn out to be what he thinks it is.  This chapter is a good example of what I like and hate about Tegami Bachi.  It's a good story with all the pathos you would expect, but Lag's crying at the end just ruins it for me.  I hate how much and how fast he can start the waterfalls.  I don't mind reading it, but I'm not gonna miss it either.
Naruto is the only title to continue to live up to its promise.  Balancing fighting with calmer exposition kept the battles from getting boring, and finally we get down to the heart of the Uchida clan.  Who they are and why every thing that has happened up to now has happened.  It's another twisted "brother against brother" plot, but again Kishimoto makes it feel fresh, and it's a twist I certainly didn't expect.
The issue ends with a spotlight on Gin Tama and features a chapter from the latest volume.  While I did find the recycling ad that opened the chapter amusing, I still couldn't get into the rest of the chapter or characters.  I just don't like Kagura, and Gin isn't that funny.  He's just dumb.  Sorry.  You need more than being dumb to be funny.  It still doesn't do it for me.
Preview for next issue doesn't look any more promising.  It'll be Toriko's last preview chapter, and Rosario+Vampire Season II will be in the showcase.  There's another title that didn't impress me in any of the other previews they've run in SJ.  I really hope in next month's issue there will be some good news about new titles starting, and something that isn't just about the power up.  Variety is the spice of life Viz.  Let's see some!