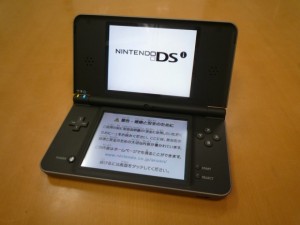 In a previous post I spoke of the Nintendo DS as a possible e-reader.  With their latest announcement, it seems that Nintendo is finally answering that call in the US.  The DSi XL, originally launched in Japan in November 2009 as the DSi LL, will be coming to the US in March.  Along with the new gaming device, which has bigger screens, will be the 100 Classics e-book cartridge that I spoke of in the previous post.
While the e-book cartridge itself isn't that big of news, public domain books are a dime a dozen on the web, it's the fact that Nintendo is finally stepping into the e-book market in the US that's exciting.  Over in Japan, the DS has been getting manga and books on the platform for at least 2 years.  It would be nice to see some manga come to this side of the Pacific.  With the larger screen and cartridge format, manga on the DS would be more difficult to pirate.  Not impossible, just more work.
Some blogs are trying to set this move by Nintendo as a play against Apple.  However, if they had been watching Nintendo's gradual climb up to  e-books on the DS, they would see this is actually a natural progression.  Nintendo isn't trying to push their way into the e-reader market (which, by the way, isn't owned by Apple).  It's Apple that's been trying to muscle in on Nintendo's handheld gaming market.  Nintendo has been slowly but surely expanding the DS to be more than just a gaming platform with wifi connection and browser.  Fans have been creating homebrewed applications to put comics and books on the DS for several years now.  This is just Nintendo making it official.  It's not a declaration of war on the iPad.  Anyone that thinks that is just trying to make a straw man they think they can knock down then the iPad finally comes out.
As a casual gamer, and an older one at that, I have to say I'm looking forward to the DS XL.  Larger screens appeal to me in general.  And while the DS is still not the perfect solution to the e-reader problem, it's one that I think can be a strong contender.  The Nintendo brand is known and trusted here in the US.  The devices are durable.  They even take all the abuse my kids give theirs!  Both kids and adults enjoy both the platform and the games.  Adding comics and manga, especially those already based on games that are being played on the device should be a no-brainer.  So comics and manga publishers shouldn't be getting excited about the iPad.  They should be looking at what they already have and reaching out to an audience that's already there, instead of gambling a on one they hope will be there.