Since I started the week with a Kaori Yuki title, let's stay with that theme.  And since vampires are all the rage this year, let's make it a vampire manga.  Yorugata Aijin Senmonten – DX aka Blood Hound is a one shot volume that was serialized in Hana to Yume from January 2003 to June 2004.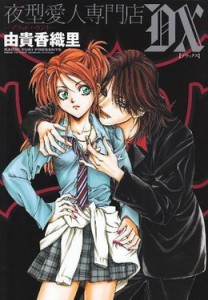 Blood Hound is about Rion, a loudmouthed teenager who goes to a host club full of vampires looking for her best friend.  She believes the vampires are behind her friend's disappearance, as well as of those around the neighborhood.  During her investigation, she begins to befriend them, including their leader, Suou.  He believes that Rion is the re-incarnation of Ellone, "the one with the purest blood", and a woman he once loved.  A romantic relationship starts to develop between the pair.  The volume ends with Rion discovering who is behind the disappearances.
This title was made into a J-Drama as well, called Vampire Host, that ran on TV Tokyo from April to June, 2004.  It went for 12 1/2 hour episodes, which made 6 1 hour stories.  It's loosely based on the manga, and has a much more humorous vibe to it.  Suou isn't the angsty vampire type.  He seems satisfied to work at the host club.  Rion is strong-willed and their relationship revolves around him trying to threaten her with being bitten, and she smacking him.  I've only seen a few episode of this series, but it was really fun.  It was licensed by Bandai Entertainment in 2007 and is available under the name Blood Hound: Vampire Gigolo.
While this is only a single volume and a lot of things remain unresolved (namely Rion and Suou's relationship), it still looks to be a good title.  The lack of vampire angst and having a mystery to solve definitely raises my interest level.  It's been licensed in France and Germany.  So why not us too?  At one volume there isn't a lot of risk.  And the more non-angsty vampire manga we can get to balance out against what's already out, so much the better.