In a world infected with a deadly virus that turns its victims into zombie-like dolls call Guignols, a traveling band of musicians, known as the Grand Orchestra, wander the world, and bringing music to the uninfected. For the right price they will perform any song and maybe even a miracle. Led by Lucille, the beautiful singer, the Orchestra searches for the legendary Black Oratorio, which is said to hold the answer to ending the Guignol Virus.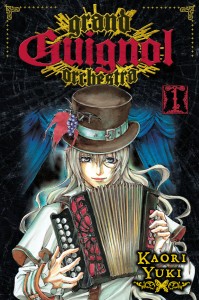 By Kaori Yuki
Publisher: Viz Media
Age Rating: Older Teen
Genre: Horror/Romance
Price: $9.99
Rating:





Grand Guignol Orchestra is latest Kaori Yuki title to be released in English. It is a Gothic horror,  that puts a different twist on the zombie phenomena. I've enjoyed Yuki's work since I first read Godchild, and was looking forward to reading her take on zombies. I wasn't disappointed. The interesting characters, mixture of music and zombies, and a story with lots of twists and turns all wrapped up in a fairy tale-like setting made this a fun read.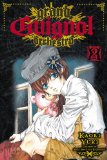 Right from the beginning I liked the characters. Lucille, the beautiful, gender-ambiguous leader of the Orchestra starts as rather capricious and a little sinister. But after seeing the "Divine Lightning" in action, a more serious and grim side to him is shown. His motives aren't revealed at first, and a lot of doubt is cast on him as being good or trustworthy. But as the story progresses, the truth is revealed, and we see that not only Lucille but his sister were manipulated into their circumstances, but Lucille had the strength and courage to find a way out for them.
Lucille's companions in the Orchestra, Kohaku and Gwindell also have their sinister sides. It is revealed at the beginning, that they are convicted criminals, and travel with Lucille in order to pay down their bail. Kohaku plays the violin, and loves his guns. He is also able to hide and infinite number of weapons on his person. Gwindell, the cellist, is the strong but silent type. He drives the hearse they travel in and carries a hedgehog with him, a memento of his daughter. Both of them claim to not like Lucille, that they are forced to be with them, but when push comes to shove, they do come to his aid. They backgrounds are revealed toward the end, and like Lucille, they are not as bad as they were made out to be.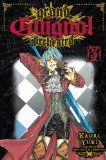 The final member of the Orchestra is Eles/Celes. She is masquerading as her twin brother after her piano playing accidentally sends the surrounding guignols into a frenzy, infecting or killing the rest of the children in town, as well as several of the townspeople. At her father's behest, she joins Lucille to find a reason to live as herself. She is the sane member of the Orchestra, trying to make sense of the insanity around her. She is also the one person all the members of the Orchestra care enough about to truly want to protect.
The story moves at a brisk pace, as there is only one story to introduce the characters before diving headlong into the plot. No chapter after the first is really a stand alone, as each revelation adds another piece to the puzzle that is finally put together in the final chapters. The twists the story takes, from who and what Lucille really is, to Gwindell's past, to the final reveal of the true villain made for a great ride. I did like how Le Senat, who seemed to be the villains at the beginning, are slowly revealed to be more than they seemed, and even honorable enough to stop one of their own, and allowing Lucille to complete his mission. I also really liked how all the seeming supernatural elements, such as the Queen's divine lightning, were explain scientifically. Sadly, it doesn't take much imagination to see how the world ended up that way, or that one man's obsession could cause such a world-wide catastrophe.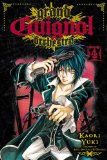 Now, I'm not a big fan of blood and gore, so zombie stories don't tend to be something I enjoy. This title is a definite exception. Yuki's zombies are different from the usual rotting, meandering creatures with their flesh falling off. They are more like wooden dolls, with hardened skin and joints, and frozen expressions. I think having them like dolls is much more scary, since dolls are real things, and can be scary on their own in the right circumstances. The "clankity" sounds they make are really creepy. They aren't completely mindless. Under certain circumstances they can regain their selves, making them less like monsters and more something to be pitied. Music is one of those circumstances.
Music is an important element in this series. The guignols respond to it for some reason, whether its Celes' piano playing, Lucille's voice or even a single tone, music can drive the guignols to attack, become themselves for a few moments, or break some control over them. Music is also the way the Queen controls her divine lightning and even some guignols. Ultimately, it is music, a song from the Black Oratorio that finally ends the terror of the guignols. And with the shadows of the original Queen and the King that created her gone as well, the series can reach a happy finale.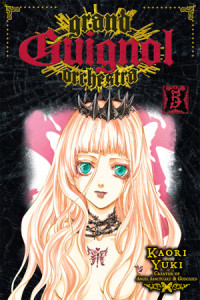 I really enjoyed Grand Guignol Orchestra. It wasn't as dramatic or angsty as Yuki's earlier titles such as Angel Sanctuary or Godchild. Considering what those protagonists had to go through, Lucille had it pretty easy. He still had a lot of difficult obstacles to get through, but he never gave up, no matter how hopeless the situation seemed. That is one of the things I love about Yuki's protagonists. I was also really happy to see the series had a definitive happy ending, and we are not left to wonder what happened to the Orchestra. Though, Lucille's face is left in shadow, so we don't know what effect the destroying of the guignol virus had on him. But then, some things are best left unsolved.
I didn't have any real issues with this series, other than it felt rushed. I would have liked a few more stories of the Orchestra helping other towns before plowing into the main plot. A little more of Lucille, Gwindell and Kohaku arguing and fighting guignols would have been nice, but not having doesn't diminish the series any.
Grand Guignol Orchestra ended shy of half a volume, so one of Yuki's short stories, Camelot Garden was used to fill it out. This is another story that mixes fantasy with science to good effect. It's premise is similar to Grand Guignol Orchestra with a father determined to keep his daughter to himself though it uses the poem 'Lady of Shalott' by the English poet Lord Alfred Tennyson as it's core. I really enjoy stories that do this, weaving the story and pictures around a poem or song.
I really enjoyed Grand Guignol Orchestra. It has the perfect balance of humor, drama, action, romance and a happy ending. It's hard enough to get this in any series, let alone a Kaori Yuki manga. This series is rather atypical of most Yuki titles, so while I do recommend it for readers looking to get into her work, be warned that the warm and fuzzies from this series aren't translated to a lot of her other works. Pick it up in print or in digital on Vizmanga.com.