Setsuna Mudo has some serious problems. He is always getting into fights, doesn't care for authority, and worst of all, has incestuous feeling for his sister, Sara. To top all this off, he also seems to be the reincarnation of the angel Alexial, who is being punished by God for rebelling against him. Now, Alexial's twin, Rosiel is trying to kill Setsuna before Alexial awakens, the demon Kurai wants Alexial to awake and lead the demons against heaven, and all Setsuna wants to do is run away with Sara.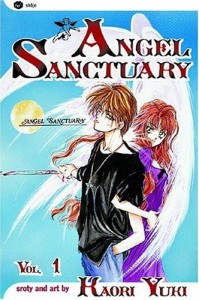 Angel Sanctuary Volume 1-4
By Kaori Yuki
Publisher: Viz Media
Age Rating: Older Teen
Genre: Shoujo
Price: $9.99
Rating:





I read the first volume of Angel Sanctuary a few years ago, and at the time didn't care much for it. But after reading, and enjoying, other works by the same creator, Kaori Yuki, I decided to give the series another try, and read a few more volumes to give it a real chance.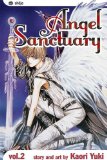 The story revolves around Setsuna Mudo, your typical angst-ridden teenage boy with the usual problems you'd expect a teenage boy to have; getting into fights and not caring for authority. But the one problem he does have, that makes him unusual, is the incestual feelings he has for his sister, Sara. He tries not to express them, coming off more like an overprotective brother, but his inner thoughts are consumed by her. This has completely alienated him from his mother, who seems to sense there's something wrong with her son, and doesn't trust him with Sara. This plotline dominates the first four volumes, as Setsuna struggles with his growing feelings and finally gives in to them, convincing Sara to run away with him.
But Setsuna has another problem. He is also the reincarnation of the Archangel Alexial. The demons, led by Kurai, want to awaken Alexial, so she can lead them against the armies of heaven. But the angels fear Alexial, and one angel, Katan, takes it upon himself to use forbidden magic in the form of a computer program, Angel Sanctuary, to free Rosiel, the only angel that has a chance going up against Alexiel. Rosiel is too consumed by revenge and himself to care much for heaven's problems, and will use anyone or everyone to kill Alexiel.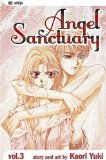 When I first read this series, I was bothered with the incest angle. But after reading more of Yuki's titles, I came to realize it was just a plot device she used to create angst in her characters. And there is a lot of angst in this series. I nearly lost all interest in the series, as the first three volumes is consumed with Setsuna and Sara willing to sacrifice their own happiness for the sake of the other. The actual angel plot took a back seat to this as the importance of Setsuna's and Sara's relationship was emphasized, as it becomes the catalyst for Alexiel's awakening. I understand the need to emphasize a point, but was 3 volumes of angst-ridden teens really that necessary?
The angels of Angel Sanctuary are not your typical "dressed in white with halos and hands together in prayer". They are little different from humans, with many of the same desires and animosities. They are also the biggest jerks you could ever imagine. They think nothing of raping a demon survivor of a massacre they had just done. Female angels are persecuted for being temptresses, and they have little to no interest in humanity. They seem to be more preoccupied with a power struggle of who will be in charge now that God has had to go to sleep as his power weakens. They will go to any length to succeed. The entire time I was reading these volumes, I couldn't help but notice the striking similarity between the way these angels acted and the angels in the TV series Supernatural. The angels in that show were in a struggle with each other to cause Armageddon while God was absent. The Supernatural angels were just as big of jerks, and cared just as much about humanity. I wonder if the creators of Supernatural were familiar with this manga?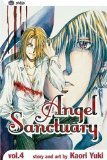 My interest returned with the fourth volume, as the story turned toward a more traditional quest plot. Setsuna is determined to rescue Sara, and must take a Orphean journey to the underworld to find her. Along the way, he will have gain followers, both angel and demon and return before his time is up (literally). He starts out with a familiar face as a guide, and while he may have it in for Setsuna, there do seem to be indications that he may become Setsuna's first follower. The quest plot was infinitely more entertaining than the angst-ridden teenagers of the first three volumes. I may continue with the series, but only because of this turn of events. If I had stopped reading at three, I wouldn't have considered continuing.
The art is ver recognizable as Yuki's, with longs of beautiful boys and long, stringy, flowing hair. You can tell this was written early in her career, as the art is rougher and not as refined as Godchild. It doesn't look bad, but you can tell it's not her latest work.
I wanted to like Angel Sanctuary, since I've enjoyed so many of Kaori Yuki's other titles, but the first three volumes made it really hard. A little bit of angst I can take to establish a conflict. Spread it out over length of the story, such as Godchild does, if you must, but concentrating so much at the beginning really turns me away. I think I will investigate further volumes of this series, just to see where it goes, but I think I'll borrow, or if it ever becomes available digitally. I want to know better what I'm getting before investing in a 20 volumes series, especially with such a shaky start.