Many of my manga wish list titles come from anime.  Since so many anime are based on a manga, this can be a quick and easy way to find the good titles, assuming the anime stays close to the manga.  And that's exactly what I hope for this title.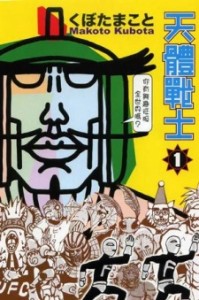 Tentai Seshi Sunred is a seinen title that runs in Square Enix's Young Gan Gan magazine.  It started in 2005, and there are currently 10 volumes available.  It's the age old story of hero Sunred defending the world from the evil organization Florsheim, that wants to take it over.  What makes this title so great is that Sunred isn't your typical sentai hero.  He's rude, angry, and a bit of a bully, while the monsters of Florsheim, led by General Vamp are for the most part kind and easy-going.  Vamp himself is a bit of clean freak, and likes to cook.
The stories themselves involve Florsheim challenging Sunred, who shows up with his uniform helmet (which he never takes off, not even to eat), but dressed in a t-shirt, shorts and sandals.  He proceeds to beat up the monster and then scold Vamp for wasting his time.  Red also has a girlfriend, Kayoko, who he lives with, and who works as an insurance agent to support them.  They bicker like a married couple, but it's obvious they really care about each other.  Kayoko is also friends with Vamp, and they trade cleaning secrets and recipes.
http://www.youtube.com/watch?v=fgf9TvywrQs
This series is just too funny.  The role reversals are great, with Sunred being the violent one, and Vamp being the conscientious member of the community.  The relationship angle between Kayoko and Sunred definitely set the series up as a series aimed more for adults, as does some of Sunred's bad habits (smoking, playing pachinko, etc).  I think both the anime and manga would do well here, as it lampoons heroes in general as well as the tokusatsu genre in general.
The tankoban are published by Flex Comics, so it seems the best fit for this series would be CMX, though the Square Enix connection might make Yen Press a good fit too.  Though, if CMX was looking for a more adult title without going for Mature, this title is perfect!  There is fighting and bad habits, but nothing gory or explicit.  It concentrates more on the comedy and could easily make an older teen rating.