I sometimes wonder where my obsession for collecting manga, for in many respects that is what I do, came from.  It's easy to assume that it started with comic collecting, but I wasn't that big of a comic collector when I was growing up.  There were a few series I followed, but it was nothing like the "gotta catch 'em all", feeling I sometimes get with manga.  It finally hit me, as I was driving home from work, listening to a podcast.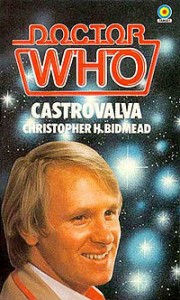 I had grabbed the mp3 of a BBC Radio program, "On the Outside It Looked Like an Old Fashioned Police Box".  It's a radio documentary about the old Target book novelizations of the Doctor Who TV series from the 70's-80's.  This series of books made available all the episodes of Doctor Who long before there were VCRs or DVDs.  And I used to read them.  I was a big Doctor Who fan long before I was a manga/anime fan.  And with the show not starting in the US until the 4th Doctor, Tom Baker, there was almost 15 years of the show that couldn't be seen, but through the novelizations, could be read.
As I'm listening to this program, I start my own trip down memory line as I though about how much loved those books.  And there were so many of them! As well as the old stories, there were novelizations of the current ones coming out as well.  I remembered how obsessed I was at getting them.  My mother would buy me one or two for just about any holiday, including Valentine's Day and St. Patrick's Day!  She always encouraged by love of reading.  The subject didn't matter, just that I enjoyed reading.  I remembered going to the local Walden's books, with their card board display and trying to decide which book for which Doctor I should buy next.  I would line up on my bookshelf and constantly reorganize them either by number or by doctor, or alphabetically.
When I remembered all that, I suddenly realized I had the same feeling for manga now as I did for the Doctor Who Target books I had back then.  It's a strange connection, but true.  Doctor Who was the seed to my manga addiction.