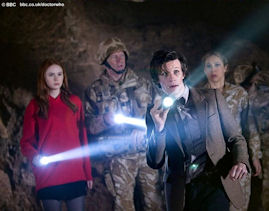 "Time of the Angels", the 4th episode of the new series of Doctor Who brings back one of my personal favorites of the new monsters; the Weeping Angels.  In the episode "Blink" from the 3rd Series with the 10th Doctor and Martha Jones, Steven Moffat introduced these eerie beings that move in an instant, but quantum lock when they are looked at by a sentient being.  "Blink" was such an awesome episode, that we were all dying for their return.  And they do, but with some missteps.
The biggest misstep for me is the return of River Song.  In "Silence in the Library/Forest of the Dead", River was a great character.  She knew the Doctor and had a journal of her adventures with her even through he didn't know her.  "Forest of the Dead" was her last.  In "Time of the Angels", she's back as a past incarnation of herself.  And this past River is really obnoxious.  She's brash, and very forward with the Doctor.  Yes, I know they were married, and he's trusted her some really important things (like his name), but seeing her in this episode really makes you wonder what he saw in her.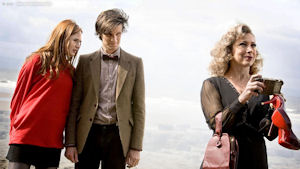 I know Moffat has a plan for River and the Doctor, and we will no doubt she her again.  In SitL, River mentioned several adventures that it turns out Moffat has all planned out, and this story is the first of those mentioned.  I just hope it's not this incarnation again.  It's almost like she's a Time Lord that doesn't change appearance, only personality.  And it really bugged me that she had that journal.  Sometimes I don't deal too well with all the "timey-wimey" stuff, and all this with River and her journal just makes my head hurt.  I could handle Blink because I could see the progression from beginning to end.  This whole thing with River having all the Doctor's future in a journal that he can't see while she gets to jump around his lives like nothing's different from one to another?  I don't like it.
I'm really looking forward to the next episode, and hope we get a lot more Weeping Angel action.  They're who I really want to see more than River Song.  And Moffat better have something good set up with the "eyes aren't the windows to the soul, they are the door" thing, or I'll be really disappointed.