Being a "Projectionist" can bring lots of money and fame, but only if you are good at it. If you want o become one, first you need to have the power to cast a four-dimensional image. The it is really important to be able to hone and perfect you projecting abilities. The best place to do that, of course, is at a high school filled with other aspiring projectionists. Step into this multi-dimensional world with a very special student body and see how each student deals with his or her special gifts!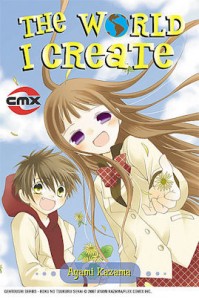 By Ayami Kazama
Publisher: CMX
Age Rating: Everyone
Genre: Romance/Fantasy
Price: $9.99
Rating:






Buy This Book
It's an interesting world that is created in The World I Create, where completely realistic "projections" are created for entertainment.  It's a lot of hard work, and can be very rewarding.  In this volume, we are introduced to 8 students, all attending school to learn to perfect their abilities.  The all have different reasons for wanting to be a projectionist, but in the end this title just doesn't distinguish itself well enough from other rom-com titles.
The first volume is comprised of 4 stories that feature two characters each it. It's usually a boy and girl, and they are all from different grades in the school.  All have different motivations (or none at all) to be Projectionists.  The first story is about a boy and girl who keep failing their first year final and must work together to get a passing grade. The second is about a boy who calibrates other student's lanterns, and a prodigy girl who only has one projection left in her. The third story is about a boy of meager means who accidentally angers a girl with height issues, who then tries to sabotage his tests.  The last story is about a boy who hates projectionists, and must come to terms with his female best friend becoming one.  Each story is self-contained, though characters from the other stories can make cameo appearances.
Overall, I enjoyed this first volume.  The characters are well developed and each couple compliments each other.  They are different from one another, but not so much that they can't get along. And none of the main characters are annoying or dumber than bricks. My favorite story of the four was the second one with Akitsu the lantern cleaner and upperclassman Kawanami, the prodigy with only one projection left in her.  Akitsu is quiet and reserved, while Kawanami is more outgoing.  Their story is touching, and while it's kind of a sad ending, it's a good kind of sad.
While there's nothing really bad about this volume, the characters are well written and stories are competent enough, there's really nothing great about them either.  Nothing about this title really inspired me or got me excited to read more.  It was entertaining and I don't regret the time I spent with it, it just isn't a memorable read.  There's nothing remarkable about the art either.  It's decent enough, but also very standard.
The World I Create is still a good title, and I would recommend it for the tween-to-teen crowd.  The stories aren't too complex or overwrought with melodrama.  This title would make a great addition to an elementary and/or middle school library, where the readers may get more out of it that I did.  This isn't a title that should be passed up.  It has some good stories to tell, just don't expect to be wowed.
Review copy provided by publisher. Image © CMX Manga