When Isabella Swan moves to the gloomy town of Forks and meets the mysterious, alluring Edward Cullen, her life takes a thrilling and terrifying turn. With his porcelain skin, golden eyes, mesmerizing voice, and supernatural gifts, Edward is both irresistible and impenetrable. Up until now, he has managed to keep his true identity hidden, but Bella is determined to uncover his dark secret…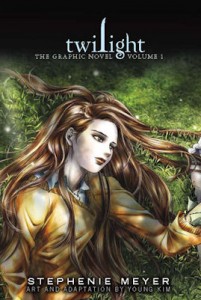 Written by Stephenie Meyer; Art and Adaptation by Young Kim
Publisher: Yen Press
Age Rating: Older Teen
Genre: Supernatural Romance
Price: $19.99
Rating:






Buy This Book
I don't care for the Twilight franchise. I didn't read the books. I watched the movie, only because Rifftrax did such a great riff on it, but hated it in general. But surprisingly, I wasn't repulsed by the graphic novel. It read like an average young adult romance, and the characters were typical of a shojo title. To quote my oldest daughter when I asked her why Twilight was popular with her friends, "Bella is a blank slate so anyone can be her, and the guys are all hot." It was filled with lots of wish-fulfillment and angst, but it wasn't the worse thing I've ever read.
This first volume covers the first half of the first book, Twilight.  It starts with Bella moving to Forks, WA, and ends with Edward's sparkly-secret reveal. Everything else in between, was filled with days of Bella at school, being with her new friends, and, most of all, angsting over Edward.
I don't have much to say about the story so far. Most of this first half had Bella and Edward thinking that the one hates the other. I can't really complain about this too much. People tend to think like this when judging by action alone, and as awkward teenagers, of course neither would think to ask. Though, considering Edward's age, I would have thought he'd be more mature, but then, the story might not appeal as much if he did. The other half is spent with Bella trying to figure out Edward's secret, while Edward is just rying to figure Bella out. Of course she has to be different from all the other girls. While Edward is about as average as a modern-day vampire can get. He and his "family" only drink animal blood, want to live in peace with humans, and are angsty about their eternal life.
The art, on the other hand, I really enjoyed. Seeing Young Kim's work made it easier to get through the story. The characters are drawn realistically. One of the things I really appreciate is how they DON'T look like the actors from the movie. I would have been easy to just cop-out and use their likenesses. I can't say if their likenesses are anything like their described in the books, but they aren't anywhere as hard on the eyes as the movie was. I also didn't have a problem with font or unusual word balloon placement used in the book. It actually flowed fairly well once you understood it. And the font did add to the atmosphere of the book. I guess it also helps that I'm partial to flowing text.
Overall, I don't feel like I wasted my time reading Twilight, but it's not something I would go looking for either.  It's not a bad way to kill an hour or so if you're curious to see what all the fuss is about. You can skip all the long-winded text and get straight to the story, and have lots of pretty pictures to boot!