Rygart Arrow is the only one in his world who lacks the inherent abilityto power up quartz, the energy source that makes all of the machines run. Good thing the King and Queen of the country of Krisna happen to be old college friends! But so is Zess, the leader of the army of mechs invading Krisna. As usual, Aroow feels useless in the face of battle, until he comes across a powerful, ancient battle suit that no one else can run. His natural affinity for the suit's operating mechanism may just turn Arrow into the most important player of all.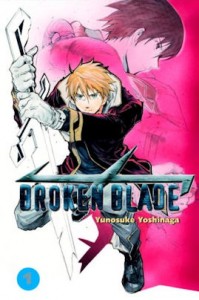 By Yunosuke Yoshinaga
Publisher: CMX Manga
Age Rating: Teen+
Genre: Action/Fantasy/Sci-Fi
Price: $9.99
Rating:






Buy This Book
It's hard to be original in a genre like mecha, where stories of battling robots all seem to look the same. To make these titles appealing, they need interesting characters and/or compelling stories that make the use of the mecha seem necessary. Broken Blade is unable to do either unfortunately, as it presents a "by the numbers" plot and characters that are remarkable only by being unremarkable.
The plot for Broken Blade feels very much like it was created from a checklist of generic mecha plot points.  A mecha is found that it seems no one else is able to pilot except the protagonist because he has a special ability. Or in the case of this title, because he doesn't. An old friend from school days is now the enemy, who has to prove his loyalty to his county and family. The protagonist doesn't want to fight, but is thrown into a situation where he has to pilot the mech, and ends up saving the day.
The generic plot wouldn't be so bad if the characters weren't so bland. There is nothing about any of the characters that really make them stand out, or even seem interesting. The King and Queen of Krisna are more like scientists than royalty. Not that there's anything wrong with that, it's just that neither appear really commanding. Rygart is right out of "Mecha Heroes 101" with his peaceful stance and his angst at not having any magic. It's low-level angst, but angst all the same. Zess is too gung-ho to please his brother, so he is unwilling to talk or listen to anyone, just like any other antagonist. There is nothing introduced in this first volume to make want to care about these characters. There is an attempt to introduce a possible love triangle, and the question of why Zess is trying to please the brother he wanted to stop back in the Academy days, but it's just not enough.
Like the story and characters, the art is fairly standard. The mecha are well drawn, and the action scene with them are actual pretty good. They are easy to follow. The characters have a good variety of appearance that you won't be mistaking Rygart for Hodr, the King of Krisna as do the mecha. There's no confusing the Zess' and Arrow's mechs. But there's nothing outstanding about it.
I had high hopes for this title. I wanted it to be good, since there is so little mech/sci-fi manga licensed, but this title just fell short of the mark. If you've never read a mecha title, or seen any of the Gundam series, this title might seem fresh to you. The most fantasy setting might be more attractive than the harder sci-fi of most mecha, so if you've been curious about what's so appealing about mecha titles, Broken Blade is a good place to start. Long time mecha fans will probably be disappointed by it though, as it feels like it's just going through the motions, with no real life to the story and characters.