It's been tough to be a manga fan lately, with one bad piece of bad news after another, and publishers being yanked out from under us. But there is one company that's weathered the storm of fans and economy and is slowly, but surely making its way back. Back in 2008, when Tokyopop did their whole restructuring, many doom sayers didn't they could return to be the company they once where. That part is try, but in a good way, that's a good thing. Tokyopop before the restructuring was a mess, stretched out too far, and using the "throw it against the wall and see if it sticks" method of licensing.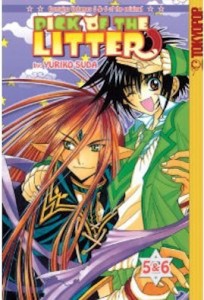 But after two years of streamlining, they have been coming back to life as it were, and bringing with it some titles some of the fans never thought we would see again. One of the titles I thought never be finished was Pick of the Litter, a B-grade comedy about cats and an alternate world. I really liked the comedy, but I'm sure it wasn't a spectacular seller. Still, Tokyopop finished it last month by releasing the last two volumes in an omnibus edition
.  Another title that I didn't think would EVER be completed is B'TX, the title Masami Kurumada did after finishing Saint Seiya. It's been sitting at 15 of 16 volumes for years! But now there is a solicitation for the final volume to be released in November. It is such a relief to see the light at the end of what was a dark tunnel for so long.
And the titles keep returning! On their twitter feed came this tweet, announcing that Genju no Seiza would be returning with volume 8, which Amazon has scheduled for August. This title by Matsuri Akino is such a good title, that it had to come back! I'm happy to see that Tokyopop agreed. And right behind it you can get Pet Shop of Horrors volume 7 which is scheduled for September. Another title that's been in limbo but has been getting a lot of talk from bloggers is Gatcha Gacha, which has had its 8th volume scheduled for early November. To find out why, check out Sean Gaffney's reviews at his blog A Case For Suitable Treatment. There are reviews of the first three volumes, but by November you can bet all 7 available will be there.
I think it is absolutely awesome that Tokyopop is doing its best to bring back these titles, even though most of them were not stellar sellers. Whatever else you say about Tokyopop, they really do care about the fans. The fact that they bringing these titles out really speaks volumes. But for Tokyopop to succeed, they need our help.
TOKYOPOP: @swanjun Yes, it is. However, retailers are lukewarm on supporting it, so please tell all your friends to order it early&often.
While this tweet was directed at Gatcha Gacha, I think it really applies for all these titles. They wouldn't have been put on hiatus if they didn't need more support. The best way to do this is by pre-ordering the titles and then telling all your manga friends to pre-order too.  With manga publishers dropping like flies (or so it seems), we as fans should support the ones that continue, especially when they show they are putting out the effort for us. We as fans of the titles should do the same. With all these titles reappearing, it's like 2010 will be the summer of Tokyopop.
Now if we can just talk them into rescuing some CMX titles. I could see Stolen Hearts, My Darling! Miss Bancho and Nyankoi! fitting into their catalog really well.