The Color of Earth, The Color of Water, and The Color of Heaven are the three books that make up this trilogy. The story is about two women, Ehwa, and her early widowed mother. The series follows Ehwa from age 7, when she first starts to realize her gender, through her growing sense of sexuality and first crushes, to her falling in love and getting married at age 18. Parallel to Ehwa's story is her mother's, who after 3 years of being alone, has her own feelings reawakened by the arrival of a traveling pictographer.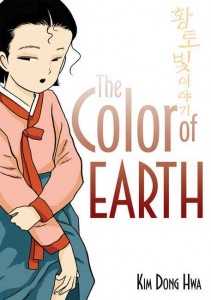 The Color of… Trilogy
By Kim Dong Hwa
Publisher: First Second
Age Rating: 16+
Genre: Drama
Price: $16.95/ea
Rating:






Buy These Books
The story is set in Turn-of-the-Century Korea, in the countryside. It is a time and place where most of the men are farmers and are valued more than women. A very chauvinistic attitude prevails throughout most of the series, which both Ehwa and her mother must endure. Ehwa is first introduced to this by the boys she see's having a peeing contest, and who tell her that anyone who doesn't have a gachoo (penis), is deformed. Ehwa's mother has to deal with it more overtly, as she learns that the villagers think she sleeps around , and has to endure a lot of harassment as a single woman inn-keeper. But Ehwa's mother holds her own pretty well with the men, and isn't afraid to let them know when they've crossed a line.
Women of this time are also forced into arranged marriages, often sold off for money and land. Ehwa's mother doesn't agree with this though, and fights to save her daughter from it, refusing offers of money and land from Master Chou, an old, but well-off land owner. She encourages Ehwa to find a man that she loves, even as she herself finds her own in the traveling pictographer.
An interesting aspect of this title was the relationship between Ehwa and her mother. They seemed more like sisters than mother and daughter. Ehwa's mother shared a lot of her feelings with her daughter, leading to conversations that sounded more like competing sisters, especially as Ehwa matured and understood her mother's feelings. This relationship does lead to some conflict between the two, though not seriously. Ehwa puts down the Picture Man to her mother after meeting Duksam, in a way that sisters arguing over who has the better looking boyfriend might. It's obvious she likes the Picture Man, and wants her mother to be happy with him, but she just can't help putting her own just a that mush higher. I think this relationship made Ehwa and her mother's interactions more interesting, and gives Ehwa a more independent attitude, to the point that she contemplates going out on her own to find Duksam, something unheard of at the turn of the 20th century, in either Korea or America.
Nature is used a lot as metaphor in this series. Flowers are used to represent feelings, especially for women, and insects represent people. Ehwa expresses her first crushes on Chung-Myong and Master Sunoo with Tiger Lilies. For her mother, it is the gourd flower, that only blooms at night, and represents her longing for the Picture Man. Throughout the volumes, flowers are used to represent some emotion that a woman feels or expresses her lot in life. While I like the language of flowers, its use in this series went a little too far, diluting the meanings, and at some points becoming downright sappy. The use of flowers at the end of Heaven for the consummation scene between Ehwa and Duksam got especially tiring.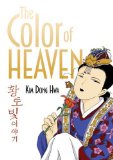 The use of insects wasn't quite as overused, but it definitely got the point across. Earth starts with two boys comparing Ehwa's mother with a beetle, in that she will sleep with anyone. Butterflies are used most often though, to go with the flower analogies. Ehwa favors the Fire Butterfly through the last two volumes. Like a moth, it is drawn to flames and will die in them. That is the kind of man Ehwa wants, one that will stay in her flame and not dance from flower to flower. I found this expression of monogamy more interesting than the Mountain Butterfly that mates for life.
Sexual maturity also plays a big role in this series, as part of Ehwa's growing up. She learns most of this from her friend Bongsoon, who is quite promiscuous. The author is very upfront about things such as sex and masturbation, but I think he does it in a realistic way. Much of Ehwa's "education" of these things comes in conversations between her and Bongsoon in way one could easily imagine happening. I find it refreshing to see it handled in a straightforward manner and as just another part of growing up. There's already enough metaphor in this book.
Overall, I liked reading The Color Of… Trilogy. It's an interesting coming of age story with characters and relationships that develop over the three volumes. But it's not a series I would re-read. The heavy use of dialog and flowery language (no pun intended) was somewhat off-putting, and tedious to get through at times. I felt like I was back in 12th grade reading The Good Earth as an assignment. I read for entertainment, not to feel I'll be tested on it later. I would recommend it be read at least one though. Young adults, both male and female, could get something useful from this series.