For all Kyousuke's resistance to Tena and her bossy ways, he seems to have settled in quite nicely to being a sort of househusband to her and the other tuners. But while Mezzo and Sopra have agreed not to collect Kyousuke's viral notes, there's no telling what might happen if he meets yet another tuner! So when Kyousuke runs into Arun, an elite tuner at the top of her class, could this spell the end of his musical aspirations…and his life?!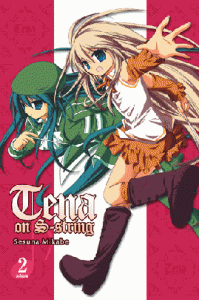 by Sesuna Mikabe
Publisher: Yen Press
Age Rating: Older Teen
Genre: Fantasy/Romantic Comedy
Price: $10.99
Rating:






Buy This Book
I love stories that relate to music in some way, but hate stories with obnoxious, bossy female leads, so I picked up Tena on S-String with guarded curiosity. I was very intrigued by the idea of tuners and seeing the music of others, but Tena is a complete turn off, and practically ruins every scene that she is in.
The protagonist of this story is Tena, an obnoxious, haughty, pushy, violent girl with no social graces. This is the character we as readers are supposed to want to read about and follow through a potentially long series? Sorry, I don't think so. These kinds of female leads make me want to just put the book down and move on to something else. There is absolutely nothing to like about her, and I would certainly hope no one would want to be like her! She pushes Kyousuke around like a servant, which I think is supposed to be funny, but it really isn't. She's supposed to be a great tuner, but we don't see her doing it. All she does through this volume is berate Kyousuke, go shopping and eat. And since she's the lead, she's of course falling for Kyousuke, but her pride won't even let her be nice to him once, let alone think such a think might be possible. I couldn't stand Tena in any of the panels she was in, and just grew to dislike her with every turning page.
Kyousuke, the male lead, isn't as bad. He has aspirations to become a composer. But he's surrounded by these viral notes, that if any other tuner discovered were around him, they would try to take away his freedom, or even his life to retrieve them. Tena and her fellow tuners Mezzo and Sopra help him hide from other tuners. Kyousuke is a nice guy, and good with household chores, but he's pretty clueless when it comes to women. He doesn't know how to talk to them in general. And he doesn't notice Tena's growing feelings for him, which only makes things worse for him.
But get the to parts where there's no Tena, and this title is actually pretty decent. All of the scenes where Kyousuke is with Arun, at the theater and sightseeing were fun to read. Even though Kyousuke is Japanese and Arun is French, they can still communicate through the language of music, which in this case is French. I really liked Arun and the scheduled life she leads. Everything neat and orderly, every moment of her day is set in advance, and she keeps to the schedule like clockwork. Until she meets Kyousuke. Their time together starts to change her. I want to see more of her and Kyousuke together.
All of the mysterious talk of the "grand play" performance and finale is intriguing too. Even though it didn't get a lot of mention in the volume until the end, I found myself growing interested in finding out more about what this "great play" is, and how it relates to Kyousuke. This part of the story has the greatest potential. If the title could concentrate on it and drop Tena completely, it would be a story a I would be much more interested in reading.
The art is fairly standard for a romantic comedy. A lot of attention is given to Tena and her constantly changing wardrobe. Clothes are what she spends the majority of the volume shopping for, since she just can't wear the same thing twice! The character designs are all similar too, especially with the girls, but there are enough differences in dress and temperament to be able to tell them apart.
Overall, Tena on S-String is well done, as long as you like titles where the female lead abuses the male lead. Definitely check this title out, you won't be disappointed. If not, borrow or trade for it and just read the non-Tena parts, which is about half of this volume. It's still worth it for all those other parts.