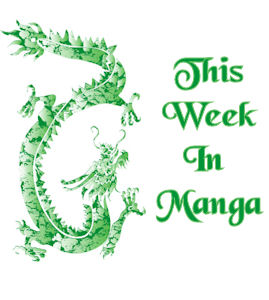 San Diego Comic Con Con't
San Diego Comic Con wrap-up dominated the news this week. But this shouldn't be too surprising considering the size and breath of the con. Friday night ended with the Eisners, where manga may have had great representation in nominations, but in the end, it was only Yoshihiro Tatsumi's A Drifting Life that was able to take away anything, and saw Naoki Urasawa shut out once again.  A Drifting Life won for Best U.S. Edition of International Material – Asia as well as Best Reality-Based Work. While I'm happy for Tatsumi and Drawn And Quarterly for their win, I think Pluto deserved more recognition than it got, and the Eisners need to look beyond tradition comic publishers for good titles.
Saturday brought the Tokyopop and Viz Media: Shonen Jump panels, the only other two publishers to have panels at SDCC. Tokyopop's panel was filled with lots of announcements, including a new title from Min-Woo Hyung, the creator of the Priest manhwa, called Ghostface. They will be making more of their titles available digitally, including through Zinio and Overdrive. They announced three new licenses, Sakura no Ichiban, Pavane for a Dead Girl and Mr. Clean: Fully Equipped as well as providing more information on other titles previously announced/discovered. It's good to see Tokyopop getting back into the swing of things, and I have to say I'm interested in all the new Yuna Kagesaki material. I really enjoyed Chibi Vampire.
The Viz Media: Shonen Jump panel didn't have any new licenses to announce, which quick frankly surprised me. I was sure there would be an announcement for Nura: Rise of the Yokai Clan. Maybe they're saving it for NYCC. Most of the panel seemed to be about SJ branding and tie-in products which is disappointing to me. I want SJ to be more than just a marketing tool for things OTHER than manga. There are supposedly changes coming to the magazine, but none of them sound all that great. I don't need more information on anime tie-ins. New, better manga would be nice. The panel also covered already announced titles, and announced a new omnibus edition of Death Note. Hiroyuki Takei, creator of Shaman King and Ultimo, made a surprise appearance. No Stan Lee at the panel. I'm disappointed in the SJ panel, but that isn't really any surprise. I have been excited by an SJ panel since the first one. The mag just isn't exciting to read anymore. It's probably because I'm not their core audience.
Another license announcement to come out of the con, though they had no panel was from Drawn & Quarterly. They announced two titles from Shigeru Mizuki, the creator of GeGeGe no Kitaro. Onward Toward Our Noble Deaths is a semi-autobiographical story of the final days of World War II, and NonNonBa is about a young boy being introduced to the world of Japanese folklore by an old neighbor woman. Considering one of their license choices took an Eisner as well as getting a lot of acclaim, these are probably titles to watch out for.
The only other panel of interest in manga fans was the Comics and Digital Piracy on Sunday. The panel included prominent manga bloggers Deb Aoki and Jake Forbes. They discussed the problems of piracy and how it affects both comics and manga as well as digital manga in general. The Q & A brought up many of the same arguments we've been hearing from scanlators. The panel is interesting if you haven't been following all the piracy posts lately, which considering the SDCC audience, probably don't, so it's good to see these things being talked about in another open forum.
After the con is over and everyone has recovered, that's when the individual reports start going up. Deb Aoki of Manga.About has reports from Preview Night, Thursday, specifics of the Viz Kids panel and a roundup of manga at SDCC (so far). Also at the con looking at kid's books was Eva Volin for the Good Comics For Kids blog. Anime Diet had a man on the floor that live blogged the Best/Worst Manga, Yen Press and Tokyopop panels. Daniella of All About Manga writes up about her first two days, and Heidi MacDonald of The Beat has her own coverage of the Piracy panel. Keep watching for more about people find time to write and upload their thoughts and reactions.
Sharp-Dressed Fan
While not strickly manga, but manga-related, is the Scott Pilgrim series. The Monday before SDCC, the final volume in the series was released, and at SDCC, there was heavy promotion for the movie. Now you can go to the movie, which will be released August13 with this contest being sponsored by Daniella of the All About Manga blog. Just tell her your favorite scene from the comic for a chance to win one of three t-shirts from the Mighty Fine t-shirt company. Run, don't walk to the nearest computer and enter now! (Ad sponsored by Doctor Who SDCC 2010 con exclusive toy and Viz bag. Thank you Daniella! Again!)
Manga Movable Feast: Kissing Up to Paradise
Just as SDCC ended the Manga Movable Feast for July started up. Held this week at the Soliloqy in Blue blog run by Michelle Smith, this month's title was Ai Yazawa's Paradise Kiss. You'll find the introduction to the series here, and an archive of all the links here. This seems to have been a slower Feast than some of the past ones, though it's hard to tell if it's because of the material (Paradise Kiss is out of print and not as easy to get a hold of) or because it's coming on the heels of such a big event as SDCC. But there are still two days left, so keep watching for more entries and for the announcement of the next Feast.
NYT Best Seller List
The list for this week starts out as a truly dark day. Twilight: The Graphic Novel has been pushed not just from its top spot, but from the top 5 all the way down to #9 by mostly Green Lantern: Blackest Night tie-ins. What will Team Jacob and Team Edward do? Happier news awaits on the manga list as Fullmetal Alchemist, one of the best reads out there, debuts and takes the #1 spot with vol 23, pushing Naruto vol 48 back to #2. Ouran High School Host Club vol 14 subsequently falls back to #3 with pal Vampire Knight vol 10 at #4. Alice in the Country of Hearts vol 1 returns to the chart at #5 with the only survivor of CMX (which really doesn't count as far as I'm concerned, since they were forced into the imprint and not really made for it) Megatokyo vol 6 at #6. The 8th volume of the VizBig edition of Vagabond debuts at #7 while Naruto vol 47 returns again to #8. The VizBig edition of Dragonball Z vol 8 debuts at #9 and Yu-Gi-Oh! R vol 5 ends the list at #10 and the series as well. This is an odd list indeed. The appearance of the VizBig editions are unusual in and of themselves, but to have two at the same time? That's really weird! Some of the returning titles are odd too, though nothing is more odd that then complete disappearance of Black Butler, a staple to the list for so long. Can this be a sign of the apocalypse?
NTY Best Sellers: Second Opinion
Matt Blind over at Rocket Bomber has something different to say about this week's top 10 list:
1. Naruto 48
2. Ouran High School Host Club 14
3. Fullmetal Alchemist 23
4. Vampire Knight 10
5. Hellsing 10
6. Maximum Ride 1
7. Naruto 47
8. Maximum Ride 2
9. Bleach 31
10. Alice in the Country of Hearts 1
Notable differences: Matt has no VizBigs on his list. Hellsing, Bleach and Maximum Ride continue to persist on his list while they are no where to be seen on the NYT list. There's no Yu-Gi-Oh! R and Fullmetal Alchemist didn't make it to #1 on Matt's list. This week's list is a little more consistent with titles, if not with places, with 6 in common. It really makes me wonder what is going on with the NYT numbers that Maximum Ride doesn't show up, but a lot of Viz new releases do.
Manga For Your Ears
Sesho's Anime and Manga Reviews
This Week at Manga Village
What I've Been Reading
Swallowing the Earth
Yokai Doctor vol 1
Jack Frost vol 3