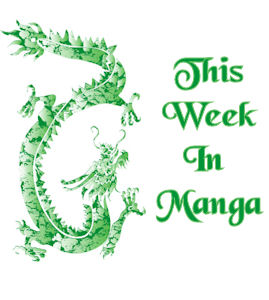 And the Con Goes On
It's been two weeks since Comic-Con, but reports are still coming out with video and transcripts from the manga panels that were held that. While that might be bad (and stressful) for the writing and transcribing them, it a bonus for those us of who couldn't go! Deb Aoki posts about the manga events on Friday and takes a closer look at the Yen Press announced titles. Comics Journal has video of the Manga for Grown-Up panel and Carlo Santos from Anime News Network talked with guest Moto Hagio. And yes, there will be more links coming. But if you couldn't make it to the con, they will be worth it.
Stuck in SDCC's Shadow

One week after SDCC was Otakon over on the East Coast, in Baltimore, MD.  There wasn't a huge manga presence there in either publishers or journalists. Ed Sizemore of the Manga Worth Reading blog not only held his own panel on Anime Journalism, but he also did writes up on Manhwa at the con for Manhwa Bookshelf, and days Friday, Saturday and Sunday. Audio from his panel can be found here, a transcript from Anime Diet here, and a report from Animemiz on it. Otakon also had a spin-off con: Baltiport. Comprised of Otakon attendees who were stuck in the Baltimore Airport, the 5 hour impromptu gathering also resulted in a license announcement. Bandai Entertainment will be releasing the Code Geass spin-off manga A Record of the Strange Tales of the Bakumatsu Era: Code Geass. You just never know when or where a new con will pop up.
Digital Manga Roundup
Yen Press' move of their magazine Yen Plus to the digital world has really had people talking. Deb Aoki had a Q&A session JuYoun Lee, the Senior Editor about the changes in the magazine and some readers concerns. Brigid Alverson of Robot 6 then took on Kurt Hassler, the Editorial Director and pressed for more, specifically about whether any of the Japanese titles such as Black Butler would be returning…. OneManga did indeed do what they said they would, and pulled all manga from the site by Monday morning. Manga Fox is still going strong as of this writing… BL Manga Kindle readers can rejoice as Animate USA puts up another round of digital manga from Broccoli and CPM's former catalog. I'll have my own review of the new Yen Plus this week, but let me just preface it by saying thank you Yen Press for making your site readable on mobile devices. I will be more likely to keep up with your releases than the others you use flash.
NYT Best Seller List
So, what does the New York Times list have in store for us this week? Starting with the hardbacks, the sparkly-vampires are getting their butts beat by guys with sparkly rings as Twilight vol 1 remains at #9, well behind several Green Lantern books. Over on the manga list, there's been quite a shake up! Del Rey finally decided to release some books and 3 of the 5 top spots are filled by them. Negima! Magister Negi Magi vol 27 debuts at #1. Right behind it is the CLAMP title Tsubasa: Resevoir Chronicle vol 27 debuting at #2. Naruto vol 48 at least keeps a top 5 spot by coming in at #3, followed by Fullmetal Alchemist vol 23 at #4. Shugo Chara! vol 9 takes up the #5 spot with Ouran High School Host Club vol 14 falling another three to #6. Vampire Knight vol 10 takes #7, staying ahead of Megatokyo vol 6 which is now at #8. Debuting at #9 is vol 2 of the Spice and Wolf manga, and the apocalypse is averted as Black Butler vol 2 returns at #10.
NYT Best Seller: Second Opinion
The manga rankings have gone up over at Rocket Bomber. Let's see how the top ten stack up:
1. Naruto 48
2. Fullmetal Alchemist 23
3. Ouran High School Host Club 14
4. Vampire Knight 10
5. Maximum Ride 1
6. Hellsing 10
7. Negima! 27
8. Naruto 47
9. Maximum Ride 2
10. Bleach 31
Only 5 of the 1o titles between the two lists are consistent. Four of the Viz titles and 1 Del Rey. Once again, the NYT list features more of the newly released Del Rey titles than RB. If you remove the Del Rey titles then the NYT would match RB's top four. RB does have Negima charting, but it's the only Del Rey title to make it to the list.  Maximum Ride and Hellsing continue to hold on in RB's list, but not Black Butler or Spice and Wolf. They don't show up until 22 and 48 respectively. If the RB list only gets its data from the three biggest sellers online and retail (Amazon, Barnes & Noble, and Borders), where is the NYT data coming from to skew their list so far toward new releases?
Manga For Your Ears
Sesho's Anime and Manga Reviews
Spiraken Manga Review
This Week at Manga Village
What I've Been Reading
Paradise Kiss vol 2
One Piece vol 43-44
Natsume's Book of Friends vol 2
Himeyuka and Rozione's Story
My Cat Loki vol 2
Yen Plus vol 3 issue 1
Shonen Jump  September 2010