The year is 2014, and Neo Tokyo is completely under the control of the Friend. Kanna has decided to stand up and avenge Kenji-will she be able to muster up enough support for her cause? Kanna makes her way to a mafia-operated casino and quickly finds herself at a high stakes table. Is she lucky (and smart) enough to turn the odds in her favor at the bizarre and fast-paced game of Rabit Nabaokov?
While Kanna marshals her forces, Koizumi Kyoko experiences true horror at the reeducation camp known as Friend Land. Going back in time in their "Virtual World", she meets Kenji and his pals as boys in 1971 and sees something that is strictly taboo: the Friend's childhood face! Will she live to report back on the Friend's identity?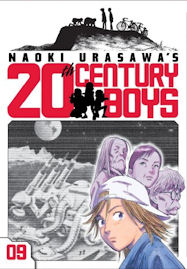 By Naoki Urasawa
Publisher: Viz Media – Signature
Age Rating: Teen+
Genre: Thriller
Price: $12.99
Rating:






Buy This Book
The more Urasawa reveals in 20th Century Boys, the less we know about what's really going on. What seemed obvious a couple of volumes ago now gets turned on its head, making you doubt everything you've seen up to now.
In this volume, Kanna, who Kenji and Shogun believed to be "the last hope", decides it's time for her to take matters into her own hands and steps out into the spotlight. Back at the beginning of the series, it was set up that Kanna had an uncanny ability, possibly a psychic power to guess what people were thinking. We finally get to see this come into play as she goes to a mafia-run casino to try to enlist more people to the cause. Showing some amazing leadership skills, she is able to bring together warring factions of Chinese, Thai, and Japanese gangs and get them to agree to work together for her cause. When she's speaking to the gang members, she seems to be more charismatic than usual. This other side to Kanna makes her a more interesting character than just the rebellious, hot-headed teen looking for revenge for her uncle that she appeared to be in previous volumes.
But, in usual Urasawa fashion, he shakes things up and they many not be what they seemed at the beginning. A New Book of Prophecy is introduced in this volume. One of the prophecies from it tells of a public meeting in a church in 2014 where the "savior" will be killed. Every sign points to Kanna and her gathering of the gangs. But, by the end, you're left feeling not so sure about Kanna and her role. Everything we've been led to believe up to now may be completely wrong. It's an eerie feeling have the rug seemingly pulled out from under you after 9 volumes.
This is one of the things that makes Urasawa's titles so compelling. The ease with which he turns the whole story on its head and leaves you wondering "What now?", just increases that need for the next volume to find out what's gonna happen next. It's his ability to keep the mystery going even when he's giving up more information, such as with the Friend's identity. More information was given about who or what he might be, but there are many reasons to doubt the source of the information. But then again, there are just as many reasons not to. Koizumi did see the Friend's face, but also suffered brain damage when she was pulled from the virtual world. Can we believe what Koizumi saw? I'm inclined to think so, but there's just enough uncertainty that I can't say for sure. This uncertainty is what makes the story so infuriating, but at the same time, addicting.
Overall, this volume of 20th Century Boys was a great read. Seeing Kanna in action at the casino made for some very compelling scenes, and there was a lot of anticipation built over Kanna's biggest gamble, whether anyone would show up the next day. This is the kind of drama I enjoy. The end of the volume created some real shock and awe as characters and readers alike are informed of the return of a surprise character that up until now has only been seen in memories or flashbacks. Oh, and Shogun is still cool. I'm really looking forward to the next volume now.