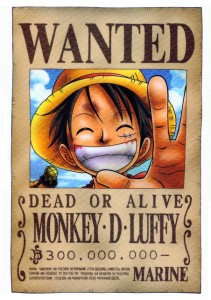 Over the last year, One Piece has been burning up the book charts in Japan. Every succeeding volume has not only out sold the previous, they have been breaking sales records, and hitting print runs in millions for the first edition. This is pretty amazing for any book series, but it's even more amazing since One Piece is a manga written for teenage boys. This means more than just the kids are buying these books. A recent discussion of shonen manga brought up influences, and of course, Dragon Ball was mentioned. First published in 1984, most of the creators working today would have read it, if not been influenced by it. Eiichiro Oda and Masashi Kishimoto have stated that their popular titles, One Piece and Naruto were inspired by Dragon Ball's protagonist, Son Goku, as well as series structure. So why is One Piece selling so much more than Naruto now?
I think the key to One Piece's success can be found in the way Eiichiro Oda utilized his inspiration from Dragon Ball to create a series that similar in feel, but still very much stands on its own. First, look at the protagonists in both titles. Son Goku of Dragon Ball is portrayed as a nice guy, not too bright, but knows right from wrong and isn't afraid to fight for it. He has a small group of close friends that he will fight to protect, and has a way of making friends of enemies. One Piece's Luffy has many of these same traits. He's the same kind of happy, go lucky guy, and you certainly wouldn't call him smart. He spends half of the "Water Seven" arc with Usopp in an obvious disguise, and never realizes it is him. He has a definite sense of right and wrong, and would gladly die fighting to save those he considers his friend.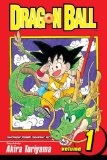 But Luffy is no clone of Goku. Goku has a kind of cluelessness that borders on innocence. It's a trait that makes him cute. Luffy is just dense. Nothing he does is cute. He's much more about the comedy, especially the frustration he caused his shipmates. Goku was all about the fight. It was about the only thing he could do really well. When he got serious, it was always about the fight. He didn't have a lot of emotional range. Goku was either confused or angry. Luffy has a much wider emotional range. He cries when he's happy and/or sad. He fights with his own crew, though more often than not they support him in the end. It's a range better suited for the longer adventure story that One Piece is, compared to the more comedy-centric story Dragon Ball was.
The most important trait that both Goku and Luffy share, and that you don't see in some of the other shonen protagonists such as Naruto or Ichigo of Bleach is that they never sink into self-doubt. No matter how tough things get, or how big the enemy is, both Goku and Luffy would face that enemy head-on and keep fighting until they won. And even if they would lose, it would only be temporary, as they work and train to become stronger and get past that defeat. If you look at Naruto and Ichigo, they get weighed down by their self-doubt, becoming very emo. Now, this might make them more popular among female fans, who seem to like a character the more emo they are, but it ends up hurting the story. This might be fine in shojo stories, where the conflicts tend to be more internal than external. But in an action story, it slows things down, as parts or even whole chapters get become about the protagonist's internal conflict. They end up going in circles, much like their fights and never really moving forward. They might get stronger as per the Shonen fighting formula, but their characters get stuck in a rut emotionally, and that gets real tiring real fast.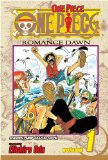 What I really love about both Goku and Luffy is that they never lose sight of what's important. They know who they are and are confident in the decisions they make, for good or for ill. They don't try to hide their feelings from their friends, and they don't try to do everything by themselves. They may be the first in a fight because of their diving into things head first, but there is never any doubt that their friends will come to support them. They are always moving forward, taking on the next big bad, and not constantly looking over their shoulder and worrying about the past.
In the end, while One Piece does owe a lot to Dragon Ball, it's Oda's strong story and characters that really carry the title. Seven years after the story was supposed to end (Oda envisioned it as a 5 year story), One Piece is not only going on strong, it just keeps getting stronger. He can do emotional and poignant scenes with the characters without having them dwell on their dark and difficult pasts. A meeting with Luffy means finding a path for going forward, and with so many dark and stagnant stories out there, it's refreshing to have one that keeps things positive. That's what Goku always did, and that's what Luffy does now.