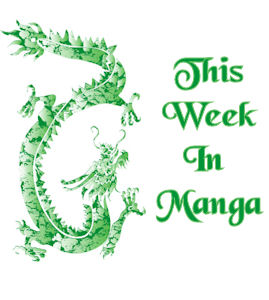 Manga Movable Feast: Kid's Table
This month's Manga Movable Feast started this week and doesn't feature just one title. It's actually about all all ages titles, with Yotsuba&! as the focus, as well as another all ages title mainly just so the pun "Yotsuba & …" could be used. Thank Ed Sizemore of the Manga Worth Reading blog for that. It's being hosted this time at the Good Comics For Kids blog, which specializes in news, reviews, articles and interviews about and with the people who make manga and comics for kids 16 and under. The introduction article is here, and the archive is here. Interestingly, a lot of the reviews and articles are about how Yotsuba&! isn't really a kid's title. I myself didn't see it appealing much to a kid, but I think that's because the appeal I found in it was the way it reminded me of my kids at that age. But if kids are anything, they are surprising. Check out the links for reviews of Yotsuba&! and other all ages manga.
Rolling Out Online Manga
Deb Aoki of About.Manga.com spoke with Crunchyroll CEO Kun Gao to get the low down on Cruchyroll's announcement of capital from Japanese cell phone publisher Bitway. What he had to say won't get fans hopes up too high for a "Crunchyroll for manga".  Cruchyroll is working with Bitway in a technology role, not publisher, so don't expect to see Bleach or Naruto manga on the anime streaming site. One thing that would be nice to come out of this move though would be uniform platform for reading manga. Right now, everyone who is hosting manga legitimately is using different systems and different readers that can be platform specific. And in this world where the web is the platform, being told your Mac or Windows Mobile phone won't work will make a lot of manga readers unhappy.  Theses different platforms can also make reading online frustrating. After weeks of seemless reading on eManga, the load times on Viz's SigIkki were downright agonizing. I could only read three chapters where I can usually read twice that on eManga. It made reading a title I enjoy downright painful, and that's not what digital manga should be about.
One Piece takes 4 week break; Oda takes 1
It was recently announced that One Piece will be taking a 4 week hiatus from Weekly Shonen Jump magazine.  There's no reason given, but considering Oda has only taken occassional 1 week breaks over the life of the title, which started in the same year my 13-year-old daughter was born, I think he's entitled to a month off. He's certainly not like mangaka Yoshihiro Togashi who works for maybe 4 weeks and then takes years off.  But, apparently, Oda is a workaholic. After only one week, he's back to work according to this tweet. If anyone has a link or can do a direct translation, it would be greatly appreciated. I've just started working on colors in Japanese. Maybe he's just really excited to get some great stuff to us readers.
Is It A Curse?
The Harveys, the comic world version of the Academy Awards were announced at the Baltimore Comic Con. The category of Best American of Foreign Material was heavy once again with Naoki Urasawa manga, but was denied again as the award went to The Art of Osamu Tezuka by Helen McCarthy. The book, an overview of the life and work of Osamu Tezuka, is the most complete available in english. It's a must have for any fan of Tezuka, or anyone interested in the history of manga. But Urawasa, who had two titles nominated this year, one co-incidentally based on an Osaum Tezuka story, was just shut out. This seems to be a disturbing pattern with Urasawa and American awards. By the rules of chance, he's got to win eventually?  Right?
NYT Best Seller List
It's a twister Auntie Em!  The best seller list for manga gets mixed up but not a lot of change. Starting on the hardback list, Twilight has dug into #6 and seems determined to stay there. Over on the manga list, Maximum Ride vol 3 holds on to the #1 spot. Naruto vol 48 makes it's move back up to #2 and Rosario + Vampire: Season II vol 2 and Black Bird vol 5 keep up their buddy system by taking #3 and #4. Bakuman vol 1 moves up to take over #5 while the only new comer to the list, Chi's Sweet Home vol 2 debuts at #6. Yeah for kitties! Negima! Magister Negi Magi vol 27 falls back two to #7 while D.Gray-man vol 18 holds on to #8. Spots #9 and #10 remain the same as well with Vampire Knight vol 10 and Black Butler vol 2 holding on.
NYT: Second Opinion
We've got two second opinions now! First if from Matt Blind at Rocketbomber:
1. Maximum Ride 3
2. Naruto 48
3. Rosario+Vampire Season II 2
4. Black Bird 5
5. Bleach Color Bleach+: The Official Bootleg
6. Negima! 27
7. Fullmetal Alchemist 23
8. Vampire Knight 10
9. Ouran High School Host Club 14
10. Maximum Ride 1
The top four still hold true between Matt's and the NYT's. Matt keeps Fullmetal Alchemist around and adds Ouran High School Host Club. Now Mangacast has posted the Book Scan numbers for this same week, and that give us:
Maximum Ride vol 3

Naruto vol 48

Pokemon: Diamond & Pearl vol  7

Rosario+Vampire II vol 3

Black Bird vol 5

BakuMan. vol 1


Negima! vol 27

Fullmetal Alchemist vol 23
Black Butler vol 1

Black Butler vol 2
The Book Scan list has more in common with the NYT list than the Amazon/B&N numbers, it only agrees with the top two spots, and it adds Pokemon: Diamond and Pearl to the mix. The interesting thing about seeing all three of these lists now is that you can be pretty sure about the top two titles, as well as the top five titles if not order. The differences are small, usually only by a title or two. I think that's fairly significant.

Manga For Your Ears
Sesho's Anime and Manga Reviews
This Week At Manga Village
What I'm Reading
I Am A Turtle ch 2-3
Children of the Sea ch 26-30
House of Five Leaves ch 5-7