Canon is a story of revenge, regret, love and redemption. Canon Himura is the sole survivor of a vampire attack where 39 of her fellow students died and she herself was made into a vampire as well. Six months have passed, and now she is searching for the vampire she believes is responsible to avenge her friends and herself. She is accompanied by a vampiric crow, Fui, who helps her sniff out other vampires. At first, all they find are servants, humans infected with vampire blood, until Sakaki appears. He is half human/half vampire, and he has a grudge against the same vampire as Canon. His parents were killed and he left for dead for being a "half". He offers to help her find and destroy their mutual enemy.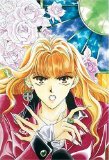 by Chika Shiomi
Publisher: CMX
Age Rating: Teen
Genre: Horror/Suspense
Price: $9.99 (OOP)
Rating:






Buy All Four Books
This seemingly straightforward setup quickly starts taking twists and turns as Canon learns the truth about who killed her friends, her connection to the elder vampire Rod, and who holds the strings to her heart. As the truth comes out and the battles between Sakaki and the pure blood vampires continue, people change sides, enemies become allies, and all the way through Canon is the lynch pin that changes people's hearts and lives.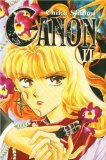 Canon is the heart of this title. She is a great female lead. Strong-minded and determined, she chooses her course and can not be easily swayed from it. She doesn't care about her odds of succeeding. She will still try her best, whether it's facing powerful vampires or trying to save humans from becoming servants. She draws a lot of her strength from being able to hold on to her humanity. She is able to fight off the thirst for human blood and keeps a hold of her self, and in doing so also keeps much of her compassion. She argues with Sakaki about killing and even convinces him to spare the pure blood Machua. It's this compassion, even in the face of her, enemy that makes Canon a force to be reckoned with. It helps her to overcome her desire for revenge, as she tries instead to break the cycle, and keep anyone else from dying. The lengths she will go for this impress even Glenn, a vampire elder determined to follow the laws of his clan.
The story is well written and moves at a good pace. Each volume can almost be said to have a theme running through it. Volume 1 is about revenge. Canon spends most of the volume going on about the desire for revenge, and we quickly learn Sakaki wants the same. In volume 2 we meet Rod, and learn the truth about what happened to both Canon and Sakaki. Rod shows his regret for what he had to do and it resonates with Canon. In Volume 3, Canon acknowledges her feelings for Sakaki, despite all the pain he has caused her. Volume 4 is about redemption, for Rod and especially for Sakaki, and only Canon can help him find it.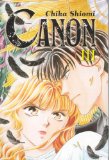 The world of Canon is laid out quickly and remains internally consistent to the end. One of the things I really appreciated about it was the focus remained on Canon and her goals, and not on getting her and Sakaki together. Canon doesn't dwell on him and what he might think of her. She only thoughts are if she can trust him, and then if she can kill him. There are very few suggestive bite scenes and they are short at that. Most of the time, the biting is brutal, and there is a lot of blood flowing, just as you would expect in a vampire story. The romance is secondary to the story, which makes the suspense all the more thrilling.
Shiomi's art is just beautiful. Set in modern Japan, Canon is dressed in smart but (mostly) sensible clothes. I have doubts about the spike heel boots, but as a vampire, she must have balance to do the high jumps and land on them just fine. In some scenes, she looks like she could be a professional working in an office. All of the characters had a professional look to them. No one was flamboyant or outlandish in style or dress.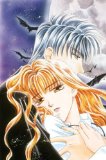 Canon is a great series and at 4 volumes it shouldn't be hard to track down. It's more about action than romance and is character driven as many of Shiomi's titles are. Not only does Canon grow and change over the course of the story, but so does Sakaki, Rod, and even Glenn. when you get to the end, you can not just see the changes, but feel them. It's also a title that keeps you on your toes to the very end, and doesn't romanticize vampires. They are the scary, blood sucking creatures of the night they were always meant to be, just a little more thoughtful for having met Canon.