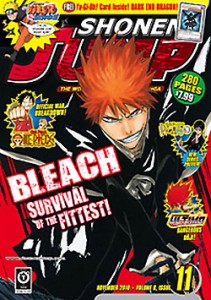 The countdown continues to the "big changes" promised for Shonen Jump. This issue is more of the same. At only 280 pages, it was a fast read, especially with most the titles being in big action scenes without a lot of reading necessary. The magazine has settled in to have all the TV and video game tie-in updates at the beginning before getting into the manga, which starts with the preview title.
It's the second chapter of Genkaku Picasso. When last we left Picasso, he was just told by his guardian angel Chiaki that in order to stay alive he had to help people, but he has no idea how. A glance at a classmate reveals a dark aura that translates into a surreal scene under Piccaso's pencil. He starts following this classmate, Sugiura, to try and find the meaning of the picture. Trying to figure it out, he and Chiaki get sucked into the picture, where they start to learn the truth. I'm starting to enjoy this title more. I wasn't sure I was going to at the beginning, but this chapter really intrigued me. I'm now even more interested in seeing how it's resolved. It will make or break if I buy the first volume.
Bleach is next, continuing the fight between Nelliel and Nnoitora and Szayelaporro and Renji and Uryu. The truth about what happened between Nel and Nnoitora is revealed, and Pesche and Dondochakka show themselves to not necessarily to be the goofballs that they first played at being. They take on Szayelaporro themselves as Renji and Uryu are getting walked all over. I hope Szayelaporro finds out how much of a bitch payback can be. I wasn't too thrilled about the way the last chapter ended, however, if the reason for Nel changing back to a little kid is because of what I think it is, and not just to get Ichigo back in the fight, then I can forgive it. I'm almost interested in Bleach again. I loved Nel's second transformation, but you might call me biased, being a Capricorn myself. If things go as I hope they will, Bleach might be able to win back some love from me.
Ultimo is up next with its single chapter. Yamato, trying to understand Iruda better has gotten himself stabbed by Jealousy, but gets some surprising help from the very person he is trying to stop. Dunstan appears and promises to help Yamato anytime he's in trouble. He is looking forward to their final confrontation, or at least Ultimo's. If there was any doubt about the inspiration for Dunstan, those doubts are dispelled in this chapter. I don't care much for the meddling from Dunstan, but the shadow of doubt that his actions cast on Ultimo's loyalty, actually all of the karakuris might be interesting. Or it might lead to a bad plot twist. Only time will tell.
The battle continues in One Piece,and the tide seems to be turning against the pirates. Sengoku prepared well, but no one is giving up. Whitebeard still has a suprise up his sleave that gets the pirates out of the water and into the plaza where Ace is, but there are still the Three Admirals in their way, and Garp who finally steps in. Luffy is getting the crap beat out of him, as he has no where near the power he needs to face off against the Three Admirals, but he absolutely refuses to give up. Here we are seeing where Luffy's greatest strength is becoming his weakness as well. His devotion to family and friends has served him well up to now, but his determination to save Ace is making him make reckless decisions. He keeps getting back into the fight even though there's no way he can win. He has always scraped by before, but I don't see it happening this time. It's going to take more than spirit, determination and talk to save Ace, and Luffy just doesn't have what it takes. I also find myself wondering if Ace can be saved. For some reason, this battle feels different than the others. I think it would be shame though. I don't think the world of One Piece should be without a decendant of Gold Roger.
Naruto finishes off the issue, with Sasuke and Kakashi preparing to go at it before Naruto interrupts. It's the meeting that we've been waiting volumes for. Both words and blows are exchanged and what's said isn't surprising. Naruto and Sasuke must fight to resolve their friendship and save Konoha from Sasuke, who believes its distruction is the only way to redeem the Uchiha. Sasuke talks big, but you have to wonder if any of Naruto's words got through to him. It was nice to see him thinking about what everyone has said to him about dealing with Sasuke before he arrives. But enough with the Sakura trying to kill Sasuke. Not only does she not have the power, she doesn't have the will. In a way, you can see that her friendship and feelings for Sasuke aren't strong enough to do what must be done. Just killing Sasuke isn't the answer. It doesn't stop the cycle of hatred, which is Naruto's ultimate goal.
Well, that's it for this issue. Next issue should have the "big announcement" that Viz touted at SDCC earlier this year. Is it the same one that was touted on Twitter only a week or two ago? I'm of that opinion. Otherwise why put it off? The only other things that would cause an announcement to be put off would be a license or online announcement, and neither of those are the "game changers" they claimed it would be. The only real game changing announcement they could make would be a legal aggregator site of say, all Viz titles to be read online for a fee (ex. subscription), but I doubt they could pull that off. We should know soon enough though.