Finally there is some news this week. It's not a lot again, but it's pretty juicy! We have license announcements from a surprising source, an online manga store opening, and some publishers throwing their weight around. And then there are the regular features of the NYTBSL, podcasts, and a roundup of what happening at Manga Village.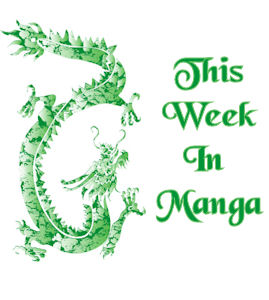 Kodansha Finally Shows Its Hand
After all the talk and two years of phantom releases (re-releasing Dark Horse Editions of material already available for several years is not really a launch of an imprint IMO), Kodansha finally had the event the mangasphere has been waiting for. Held last Sunday at the Kinokuniya in New York City, Kodansha finally announced not just new titles to be published, but actually dates as well! The fate of several Del Rey titles were announced at the event as well. Some of the new titles include Deltora Quest the adaptation of a teen fantasy series by Emily Rodda, Monster Hunter Orange by Hiro Mashima of Rave Master and Fairy Tail fame,  and a title I've been wanting for personally, Bloody Monday. A long list of most, but not all of the Kodansha titles from Del Rey were announced with dates too, but there were some notable absences, such as Nodame Cantabile. The CLAMP titles will stay with Del Rey. A couple of licenses were rescued as well, including Gon, which as already published in its entirety by CMX.
Up until know Kodansha hasn't done anything to really impress me as a serious player in the US manga market. But with this round of announcements they have finally taken the steps necessary to become one. Even without the returning Del Rey titles, Kodansha is opening with a good variety of titles to appeal to wide audience. I will definitely be checking out several of their new titles. I just wonder what the hell took them so long to finally do this? They didn't have to wait for Del Rey's demise for so many of their new announcements, unless it was a contractual thing. I'm just glad it's finally done.
Square Enix Manga Store Finally Debuts
Originally promised to debut in the fall, Square Enix has opened its own online manga store. There are currently four titles available, the first volumes of Full Metal Alchemist, Soul Eater, Record of a Fallen Vampire, and Yumekui Kenbun: Nightmare Inspector, with the last two having additional second volumes up. The cost to access these volumes is $5.99, but this is apparently a limited time price. This is not an auspicious debut for Square Enix. All of the titles are already available in the US, and any titles purchased through the site can only be read online. There is no downloading of the volumes. And the pricing isn't all that great, especially when compared to other sites such as eManga.com and Netcomics. Starting at $5.99 for books they didn't even have to do anything for (they are using Viz and Yen's translations) is already steep. Raising it will just turn more people away. I know I'd rather spend that $5.99 on a used print version of those titles that on an online version that could be taken from me at the publisher's whim. Nice try Square Enix, but I don't think this is going to fly far. The point to attract people to the site, not drive them away.
Japanese Manga Industry Finally Notices Scanations on iTunes
It's no surprise to anyone that scanlations have been available to read and download though apps available in the iTunes store. But since so many of the apps just direct the reader to a site in app instead of the manga itself, playing aggregator to the aggregators, Apple seems to have been giving them the pass. Well, it seems the Japanese publishers are kind of mad about that, and they aren't going to take it anymore! In a strongly worded press release, a consortium of Japanese publishers criticized Apple for its lax attitude toward this copyright infringement of their work in the iTunes store, and said that Apple "bears grave responsibility" for it. Apple, of course, threw up the YouTube defense, that there are just too many apps to vent, but that they would comply to any complaints filed by publishers, putting the brunt of the work back on them. Now, I might buy this if Apple wasn't already "scrutinizing" all of the apps already. It become their responsibility when they claimed to have the right to refuse any app that doesn't comply with their terms, which one would assume includes copyright infringement. Their attempt to put the responsibility back on the publishers once again puts Apple's venting process in doubt. I do hope the Japanese publishers put more pressure on Apple. Youtube had to, and did come up with a way to flag infringing material. The "great Apple" should be able to do the same.
NYT Best Seller List
Finally there are some new titles on the list for this week. Actually, all but three titles are debuts. Starting at #1, Vampire Knight vol 11 takes over the top spot while another vampire series, Rosario + Vampire Season II vol 3 leaps in at #2. Bleach vol 33 washes its way into the #3 spot with Ouran High School Club vol 15 is escorted to #4. The first of the three holdouts from last week, Naruto vol 49, falls four to #5, and is bookended by newcomer Skip Beat vol 22 at #6. The second holdout is Alice in the Country of Hearts vol 5 which was pushed another two to #7 and is followed by the debut of Dance in the Vampire Bund vol 9 at #8. Ultimo vol 3 is the last debut at #9 as Black Butler vol 3 is pushed back four to hang precariously at #10. Viz fronts quite a coup as their new releases take over with a total of 6, and with one holdover to put its control at 7. Tokyopop, Yen Press and Seven Seas are left with the remainder. It remains to be seen if the trend will continue the next week with Yen Press having the bulk of their titles out this week.
Manga For Your Ears
Manga Out Loud
Spiraken Manga Review
This Week At Manga Village