Dr. Slump Volume 12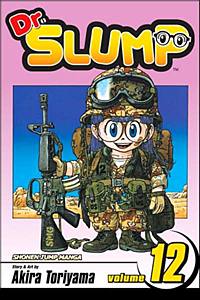 By Akira Toriyama  ♦ Viz Media ♦ Teen ♦ Action/Comedy ♦ $7.99
Rating:





In an especially tearful episode, Senbei fixes the anti-gravity device on the Tsun family's rocket, and they leave Penguin Village forever…or at least, for a few pages.  And in a slightly less tearful episode, Senbei fixes the anti-gravity device (again!), this time so that King Nikochan can return home—with some unwanted stowaways:  Arale and the Gatchans!
The only tears that usually come from a Dr. Slump volume are from laughter.  This series is all about the slapstick, and this volume doesn't disappoint.  From Arale having a greeting battle with a space monster that threatens Nikochan's home planet, to a thief that uses books to distract her victims as she robs them, there's always a good reason to laugh.  Even in the less comical chapter where the Gatchans finding an egg that they and Arale decide to hatch, which leads the Norimaki household on a journey to take the baby Penseal home to his parents, they still find time to do laundry (in the Nile), get ice from the refrigerator (that Midori packs), and stop for sightseeing in France.  It might seem at first glance to be gags that have all been done before, but Toriyama's cast of characters definitely give them new life.  And the "Day in the Life" photos of Toriyama were fun too.
Not all of the chapters were laugh-out-louds, but as a whole, this volume does a good job of entertaining.  It definitely merits returning to Penguin Village for more silliness from its inhabitants.
O-Parts Hunter Volume 5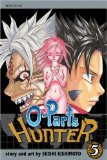 By Seishi Kishimoto ♦ Viz Media ♦ Action ♦ Teen + ♦ $9.99
Rating:





Jio's friend Ball always dreamed of being strong—strong enough to help the resistance movement stop the maniacal governor Jaga who has a stranglehold on his hometown, and strong enough to defend his friends and his sister.  Now that he too is an O.P.T., it looks like Ball might stand a chance!  Can he, a novice when it comes to O-Parts, defeat a powerful member of the Zenom syndicate single-handed?
As we move toward the climax of the Entotsu storyline, this volume spotlights how much Ball and Jio have grown.  Ball, after all his bragging, finally figures out what it means to be an O.P.T., and shows all of his big talk wasn't for nothing.  Jio has a greater obstacle to face, as he finally comes face to face with his inner demon, Satan, and makes a deal with the devil, so to speak.  And, though we are still faced with more questions than answers, we do learn a little more about Satan's motives.  And, as you might suspect, they aren't very nice.  Despite it's slow start, this series is finally starting to get into its stride and it's really starting to shine.
At its heart, O-Parts Hunter is a straight out action series.  It has an energy that's really appealing without being big and flashy.  When I first started reading this series, it reminded me of another title, and it took me a while to figure out which; Dragon Ball.  Toriyama storytelling had the same straight forward action as this one.  The original Dragon Ball was a quest with a lot of fun and action.  O-Parts Hunter has that same energy, and it makes this title a lot of fun to read.  It was another one that I just couldn't put down until the end.  And it looks like the action is really going to be taking off from here.