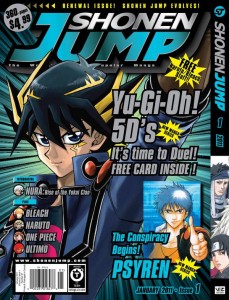 It's the beginning of a new year for Shonen Jump and they start it off with what they call another "evolution" I wouldn't call what SJ did an evolution, but it is a definite improvement. Two new manga are added to the magazine, bringing the number of titles back to six, and the page count back those of the good old days. Subscribers also have online access to Nura: Rise of the Yokai Clan. So let's jump into it!
The magazine begins with all its ad stuff. Merchandise, DVDs, video games and TV/Online airings of Shonen Jump anime. There was also a free Yu-Gi-Oh! card. I only mention this because I had to buy this issue for my youngest daughter so she would stop asking for my card. Not that I collect the cards, I just like to keep my issues complete.
Psyren is the first manga and first new manga in the magazine. It's about Ageha Yoshina, a high school boy who likes to fight. He picks up a call at a public phone booth and gets a red phone card with the world Psyren on it. It turns out Psyren is the name of a secret society, made of people who want to create a new paradise on Earth. It's treated like an urban legend, but one of his classmates, Sakurako seems to be involved. Unable to keep his nose out of her business, he uses the card, and ends up being transported to another world, where he runs into Sakurako who is being attacked by a strange bug-like monster. Meeting up with others new to the world, he learns the psyren is some sort of game, and you can't leave until you finish the level. I enjoyed these first two chapters. Ageha is the trouble-maker with a heart of gold. He helps people using his fists, and doesn't tolerate bullying. We still don't know much about Sakurako or how she got involved with Psyren, but with the two of them together in the game, hopefully next issue will give use some useful exposition.
Naruto starts with Kabuto making Madara a deal he can't refuse, though we are kept in the dark about why. Meanwhile, it's decided to hide away Naruto and Killer Bee to keep them safe from the Akatsuki, and they go off to a solitary island where Killer Bee learned to control his Biju. Naruto wants to learn to, so after a rocky start, he begins training. These chapters were too bad. I like the frog sages, so seeing more them is always a plus. I don't know how much I like Bee. All the rhyming is fun, gets old pretty fast. Naruto's enthusiasm is a nice change, and I'm interested to see how his training goes with Nega-Naruto.
I have only one thing to say about these chapters of One Piece: Oh.My.God. Whitebeard continues to try to hold off the marines so his men can get to safety. He splits the island in two so his men can't keep trying to help him. The whole thing ends with Black Beard and his crew appearing. I dont' want to say what happens in the middle with Luffy, but needless to say, I so did not see that coming!! It's not a moment that bring tears, because your mind is so shocked by what happens that it never gets to that. I still can't believe it, but if there was to be anything happen to shake Luffy's faith, in himself, and in the world, I can see it being this.
In Ultimo, Vice decides to go on a killing spree. It seems he's determined to upset Dustan's plans as well, but only for self-preservation. He takes out Gauge, Slow, and Pardonner, while Yamato has rushed off to Sayama's birthday party with Rune, not knowing that Rune has contracted with Jealousy. I have no idea where Ultimo is going, and frankly I really don't care. It has moments that look like it will have potential, that then get swallowed up in pointless fighting. I can just see another time travel reset lingering in this series' future.
Bleach continues to the battles between Byakuya and Zommari which takes up the whole of the two chapters. Byakuya wins, but not before Zommari runs off his mouth with some speech about Soul Reaper arrogance. The last chapter ends oddly, with Mayuri seemingly at Szayelaporro's mercy. I find this hard to believe, even with Mayuri's arrogance, I don't see him falling so easily to Szayelaporro. He has to have something up his sleeve. I'm still waiting to see where this Soul Reaper invasion is going. Aizen's true goal still hasn't been revealed, so he won't be defeated anytime soon. Perhaps the invasion will lead to a confrontation that will lead to a reveal? Or at least a better idea. I'm really getting tired of all this fighting.
Yu-Gi-Oh! 5Ds is the second new title to join the print magazine. It takes place in 20XX, on a satellite. The new hero is Yusei, a cool and confident-looking guy whose hair is throwback to the original Yugi, with duo-tone spikes. Duel Monsters is now played on Duel Runners, motorcycles that the players race on while they throw out their cards. Their speed is dependant on how well they play. We see one race, Yusei vs Sect, his seeming sidekick/rival. The chapter ends with the appearance of an urban legend come to life, the Skeleton Knight who challenges Yusei. I actually liked this first chapter. Not a lot has been explained about the world or the games, but I like Yusei, and that's enough to make me want to see the next chapter.
Nura: Rise of the Yokai Clan is the first online only manga for Viz that only subscribers can access. The first two chapters are available online. It starts by introducing Rikuo when he is 8-years-old. He's loves playing with the yokai in his grandfather's mansion and is really gung-ho about one day succeeding his grandfather as the Lord of Pandemonium. He thinks yokai are good. A presentation at school suggests that they aren't. A powerful yokai tries a power play, and attempts to assassinate Rikuo by destroying his school bus. Rikuo wasn't where and now his classmates are trapped. Rikuo's yokai blood reacts to the danger and he leads a group of yokai to rescue his friends and stop the rouge yokai. Fast forward 4 years later. Rikuo has done a complete 360. Now he wants nothing to do with yokai while all of his classmates at school believe in and love yokai. They all go to a local abandoned building to look for them, as Rikuo tries to keep the yokai away from his classmates. I really liked the first chapter, and was feeling a lot of good potential coming fromt his title. Then I got to the second chapter. I did not like the total change in Rikuo. He's become a "nice" guy, offering to do things for kids at school, which almost looks like he's being bullied and/or taken advantage of. He really comes off as weak and useless, and reminds me a lot of Yugi from Yu-Gi-Oh! I really didn't like him, and preferred the stronger, more confident "Other Yugi." I'm getting the same vibe here from Rikuo. It's only two chapters in, so things might change for the better again. I'll wait and see.
This was definitely a good issue. The new manga greatly improved the magazine in general, and now I have more reasons than just One Piece to read it. I can't really say the same for the online side though. Viz pushed that other manga would be available to SJ subscribers, but that's turned out to be "extended previews" of upcoming volumes, and will only be available when the volume is actually releases. There still no world at how long the previews will last, or if previous chapters of Nura will remain on like or if they will be taken down when the volume comes out. I'm guessing it's gonna be the latter. But, I'm not subscribing for the online content, so it's no big deal…for now.