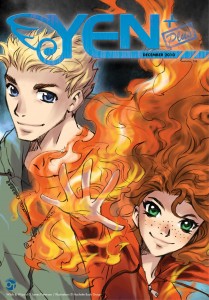 Yen Plus finishes up the year with a new title and a new announcement. When Nightschool ended in September, a lot of people were disappointed. They were going to miss reading Svetlana's story. Two months later, and Svetlana returns, not with more Nightschool (sadly) but as the artist on the third James Patterson series to be serialized in the magazine, Witch and Wizard. And then, in the "Next Issue" section, there is an announcement that only Yen Plus subscribers will see. Starting in January, Yen Plus will debut another new series, that is also their first simultaneous serialization. MilkyWay Hitchhiking is a new manhwa by Sirial, the creator of One Fine Day. It's about a cat with a pattern on her back that looks like the Milky Way galaxy and the many wonders she discovers. It looks very cute, is in full color, and features a cat, so it's already got a lot going for it. I can't wait!
Witch and Wizard starts out the magazine, with a pretty dramatic scene of the heroes about to be hanged. It then flashes back to how they got into that situation. Not my favorite story telling device, as it's been overused on TV recently. A new political party has taken over and is instituting new laws that make magic, real or imagined illegal. Our heroes, Whit and Wisty seem to have some of these magical powers and they and their family are taken into custody. There's a lot of water throwing, and interrogation in the first chapter, and the reader in kept in just as much the dark as the characters. I don't know if I like this series or not yet. The smugness and seeming absolute power of the bad guys is making me lean toward a no, but I'll give the series a few more chapters before I decide definitively.
Aron's Absurd Armada finally ends the confrontation between the pirates and the marines, but not before Ronnie makes an enemy of the leutenant…by falling on Dorothy's chest. The pirates get a wanted poster that makes Aron happy. Ronnie gets a huge bounty and ONLY DEAD, while Robin is cut out, and Gilbert and Anton are officially identified. I'm still loving this title and will follow it all over the seven seas!
Daniel X jumps right back into his alien hunting, and decides to go after #5 on the list. Because he did so well taking out #6…. Anyway, he's sticking to LA, as #5 hangs out in Hollinswood (Hollywood), making movies by forcing people to act and then killing them. Daniel is usually one step behind in this chapter, running into him at an S-Mart and gets a "screen test" to be the star in #5 next picture. The story is still being set up, so I don't have much to say about it yet, but #5 isn't really impressing me like #6 did. I did like S-Mart reference. I don't suppose a guy from housewares with a chainsaw for hand will come to his rescue…
In Jack Frost, Hansen finally has to face his past and his brother. It takes Lucy sacrificing himself to get his gun to finally snap him out of his daze and get serious, which is where the chapter ends. Jack is still being used as a pin cushion, and I hope he's just biding his time. Because, if he can be so easily contained by some big guy with some spikes, then he doesn't deserve his title. Or is he just waiting for No-Ah to be threatened before he can level up again? Either way, Jack is a disappointment. Now that Hansen has his head in the game, maybe this part of the story can finally go somewhere.
Yotsuba&! is still at the Hot Air Balloon race. Yotsuba goes for a ride in one of the balloons, drops her teddy bear, plays with a bamboo dragonfly and ends by sliding down a hillside and ignoring the race they came to see. It's just more the same. Cute if you like the series, boring if you don't care for Yotsuba or kids being kids in general.
K-On! has the pop music club worrying about new student orientation, both for performing and getting new members. They do get one, Nakano Azusa, a girl with a lot of musical background and enthusiasm that is quickly snuffed out by the rest of the members, and teacher advisor. She is welcomed into the club with a pair of cat ears. I'm still feeling 'meh' about this series. I really don't see what so funny or cute about it.
I'm really happy to see Yen Plus getting some new titles for the new year. Milkyway Hitchhiking sounds like a lot of fun and kid friendly, and it's good to see Sveltana's work, even if the story isn't rocking me yet. But it's really the Japanese side that really needs some help. Yotsuba&! and K-On! have their audiences, sure, but it looks pretty pathetic, especially when compared to the more varied OEL/Korean side. Something with some real action would be good. Something with good action and story would be even better. Yen has to have something in their catalog now or upcoming that can help this side rise up to at least meet the Korean/OEL side.