With No-Ah's childhood friend/tormentor added to the mix, all sorts of new adventures are brewing at the green-roofed house. Nanai the dog, Guru the cat, and Rang the mouse have cooked up even more fun this time around: visiting the library, searching for treasure–and tailing Rang on her first date?! But life isn't always strawberries and cream — it's all kinds of experiences that make happy times taste even sweeter.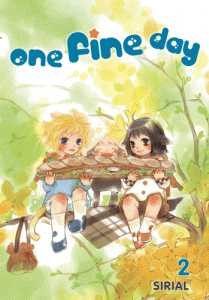 By Sirial
Publisher: Yen Press
Age Rating: All Ages
Genre: Fantasy/Slice of Life
Price: $10.99
Rating:





New and more permenant characters open up the story opportunities as Aleriu becomes a regular, Rang gets a suitor in the form of a stray cat, and No-Ah takes on a renter, the just-as-poor girl Lili. Even with all the new friends, Nanai, Guru and Rang still find all kinds of fun and adventures to go on their own.
The days continue to roll by in these next, and last, two volumes of One Fine Day. Aleriu, who was introduced in the first volume, now lives with No-Ah and the animals. Aleriu has a knack for finding (or creating) trouble. A magician like No-Ah, he is better skilled and tends more toward the dark side. He like to place curses on people, which has become his livelihood, and has a dark shadow living in his room that is always laughing. While his pranks in the first volume were annoying, Aleriu is toned down, with more threatening looks and less actual follow through. Captain, the gray cat who takes a liking to Rang, is very soft-hearted for a street cat. He likes cute things, so of course he falls for Rang. This human form is a tall, rather bishonen man, making walking and holding Rang's hand rather difficult.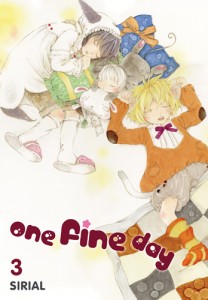 The last new addition is Lili, who is introduced in volume 3. She seems to be as poor as No-Ah, though we never see if she has a job. She moves in to the green-roofed house since it's the cheapest room she can find, despite discouragement from the real estate company. She takes the weirdness of No-Ah's house and roommates fairly well, and even ends up not minding finding Aileru in her bed. I really didn't see a point to adding her to the cast so late, unless the series ended sooner than expected. Lili only appears in three stories, and only does anything in two.
There are some very enjoyable stories in these two volumes. "Night with the Moon" has a fairy tale feel to it, where the animals try to help the moon and a star return to the sky. "Talking About You" is funny as the animals all complain about Aleriu. "Mabrit's Treasure" and "Home Sweet Home" have an innocent magic to them, as the animals go on a treasure hunt set up by No-Ah and Aileru, and we finally hear from the house they have all been living in. The dancing furniture was fun and the what the house had to say was sweet. "Little Voyage" tells of Rang's past and is a real bittersweet tale. "Summer Explorer" shows the animals exploring the woods near their home and getting into general trouble. "La Vie En Rose" is another magical tale of everyone working together to fix up a doll for a little girl. My favorites are "Mabrit's Treasure","Summer Explorer" and "Home Sweet Home".  The ending of "Summer Explorer" was especially heart-warming.
Overall One Fine Day is an enjoyable series. There is nothing objectionable in it, and the simple, straightforward stories make it great material for younger readers. The art is cute, and the kids are especially so when they are in their animal forms. The stories are fun and light, and makes a good pick-me-up after a stressful day.