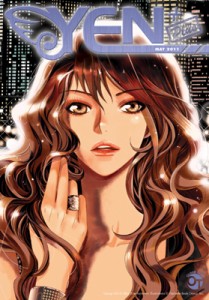 One of the good things about Yen Plus is that it isn't filled with a lot of articles about things I don't care about. There aren't color spreads of anime I don't want to watch, video games I don't play, or ads for devices I don't and will never own. It's just all about the manga. The ads in the magazine are all in-house for YP titles. I don't have to skip a lot of articles to get to the good stuff. And there is a lot of good stuff in this month's manga.
Maximum Ride – I may have to re-evaluate my stand on this series. Things seemed to have taken an interesting turn, and I may start reading it again. If the major angst is over. This chapter has Max faced off against Max 2.0. It was a battle set up by Jed to see who was stronger. Original Max won, but defied her "programming" by refusing to kill Max 2.0. An explosion gives the flock the cover they need to escape. Jed is given an ultimatum from his higher-ups; the flock must be eliminated before their "New world Order" plan can go into effect. The whole NWO plan has the most interested, so I think I'll read a few more chapters to see where this all goes.
Milkyway Hitchhiking – This chapter has Milkyway at a school. There is a timid boy who tries to speak to his fellow classmates, but he just can't get the words out. Milkyway leads him to an old house where there is an old cello. With Milkyway's help (though actions, not words), the boy learns to play the cello, where his first "concert" has more than a cat for an audience. This is the nice start to a story, but I wonder if it will be continued in the next issue. This title hasn't had any two-part stories yet, and while this chapter does have an ending, it's not really a satisfactory one. I'd really like to see more of the boy and the school.
Witch & Wizard – Whit and Wisty escape the Shadowlands with Sasha's help and make it to Freeland, where a bunch of kids that have escaped the New Order live and continue to resist the N.O. by freeing other accused "witches" and "wizards". Whit and Wisty aren't ready to commit to help the others, but a description of their abilities puts them immediately onto a higher level than many of the other witches and wizards, but also makes them prime candidates for being the "Liberators". Now that there seems to be a plot in full swing, this series isn't as boring (or melodramatic) as the first few chapters. Where it seems to be going though, does seem rather obvious. But maybe it won't be boring-obvious. Svetlana's art does keep it fun.
Aron's Absurd Armada – The truth behind the attempted assassination on Aron is revealed, and I was half right. The crew is distracted by the appearance of an island where Ronny, Anton and Gilbert go in search of treasure. They find only half. The chest. Fear of facing the demon that is Robin has them worried, but the appearance of Luthor is just the distraction they need. I'd really love to see more webtoons like this show up in Yen Plus. It's really funny.
Daniel X – After learning Number 5's plan, Daniel and his imaginary crew goes to work. First, they take out Number 21 and then go to face Number 5. Number 5 is waiting for them of course, and tries to distract Daniel with the story that he was there when Daniel's parents died, filming the whole thing. But Daniel doesn't rise to the bait and tests Number 5 himself. It doesn't seem to inconceivable that Number 5 could have been there, but at the same time it does sound like an attempt to get a rise from Daniel. But with this being from a YA novel, it's probably going to be closer to the former. We'll have to wait for next issue to see what Daniel's next move will be.
Highschool of the Dead – An argument on the bus erupts that give Shidou the opportunity to take over. Rei won't stand for it, so she gets off. Takashi follows her and makes an arrangement with Saeko to meet at the Easter Police station at a specific time. The two students fight with a zombie motorcyclist, and take his ride. It's strange where the hostility toward Takashi comes from. It seems to just be a reason to get him and Rei off the bus and on their own again. This is just a transition chapter to get the plot moving on to Rei and Takashi killing zombies, which is what this title is better at than coming up with plot.
The Innocent – Johnny is given his next assignment. Deliver a letter for a man on death row, wrongly accused of murder. Of course, Johnny isn't interested at first, but when he sees what the man, Norton Graves has been working on, he goes to look in on Graves' wife. The angel goes to try to find out how Johnny/Ash became an emissary, and meets another angel how taunts him. Johnny arrives too late to get the evidence Grave was hiding, but meets Whirl, a man who can see him. They fight, and Johnny is almost killed in the process. The angel saves him while Graves' wife and child escape. In the end Johnny fulfills assignment. Once freed from the chains that bound him, he goes after Whirl, who seems to have had a hand in harming his sister. The introduction of Whirl adds a new dimension to the series. of everyone in the room, he was the only one who could see Johnny, and even injured him. It leaves a big question about who or what he is.
K-On! – It's summer, so Yui is of complaining about the heat. The girls try to come up with ways to practice and keep cool. Then Ritsu runs into Tsumugi and shows her how "the little people" have fun with little money. Some cute but obvious moments.
Yotsuba&! – Yotsuba, Koiwai, Fuuka and Jumbo continue their adventures in the electronics store. While Koiwai and Jumbo look at cameras (the reason they are there), Fuuka and Yotsuba explore the rest of the store, checking out refrigerators, exercise machines and massage chairs. Yotsuba rocks out with some headphones to some loud sample music. This was a "been there, done that" chapter, and I don't need to live vicariously through Yotsuba.
This month's issue was a good read over all. The Innocent is going in interesting directions, and I'm looking forward to mindless zombie killing. I may be back to reading all of the Patterson adaptations. It they weren't soooo angsty at the beginning, I wouldn't have such doubts about them. I would like to see at least on more Japanese title, and some more Korean manwha. The adaptations are really overrunning the English/Korean side. Something needs to balance against the Patterson/angst.