Saiyuki is among the first few manga I started to read. Having been a fan of the original Dragon Ball manga and knowing how it was based on the Chinese story Journey to the West, I was interested in seeing other takes on the story. While I came to Saiyuki for the story, I definitely stayed for hot guys. This title is a perfect blend of action, bishonen and angst, that it's no wonder is was such a big hit with the ladies when it was released.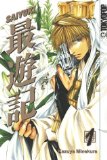 By Kazuya Minekura
Publisher: Tokyopop
Age Rating: Older Teen
Genre: Action/Fantasy
Price: $9.99
Rating:





The basic premise of Saiyuki is simple. In the land of Shangri-la, humans and demons known as youkai live together in peace. But the peace is threatened when someone attempts to resurrect Gyumaoh, a youkai known as the Ox King using a combination of demon magic and human science. The forbidden practice causes a Minus Wave of negative energy to spread across Shangri-la, and causing the youkai to lose their minds and attack humans. The gods summon a monk, Genjyo Sanzo, to travel to India in the west to find out who is attempting the revival and stop them. Accompaning him are former traveling companions Son Goku, Sha Gojyo and Cho Hakkai, three youkai that seem to be immune to the minus wave.
But getting to India isn't the point of this series. It's just an excuse to get these four traveling together because it's the characters and their interactions that really make this a fun title to read. Sanzo, the defacto leader, is not what you would expect a Buddhist monk to be like. He doesn't shave his head. He drinks, smokes, and gambles. He carries a gun to use against enemy youkai, and a paper fan for Gojyo and Goku. Gojyo is the bad boy of the group with a cigarette in one hand and an eye on the hottest girl in sight. He likes the act like he's grown up, but always ends up in childish arguments with Goku. The youngest looking of the group, he's really over 500 years old. He's also the most powerful, but is kept in check with the power limiter headband he can never take off. He thinks more with his stomach, and looks up to Sanzo. Hakkai is the quiet one, always ready with a gentle smile and a helping hand. The smile can also be quite menacing, especially when he has a ball of his chi ready to fire at an enemy or make into a force field to protect friends and innocents alike.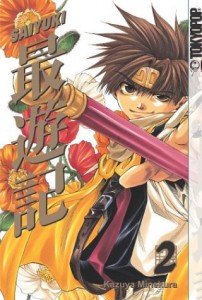 For the most part, this odd quartet gets along like old friends, or almost a family. Gyojo and Goku are the siblings, constantly bickering and teasing each other. Sanzo is the father constantly getting angry at their bickering and issuing threats of "I'll kill you", while Hakkai tries to keep the peace. But for all the light-hearted moments, the boys have some tragic pasts that not only influence who they are now, but also come back to haunt them on the journey. Sanzo's almost takes his life, and Gyojo's comes back in a most unexpected way. Their tragic back stories are wrought with emotion, but never quite tip into melodramatic territory. Hakkai's back story is just starting as volume 3 ends, but portents in the final chapter doesn't bode well for him.
Their enemy, Kougaiji, the son of Gyumaoh, and his trio of subordinates are almost a mirror image of the group. Youkai with tragic pasts of their own, they drum up an almost friendly rivalry with Sanzo's group. They even end up working together at the end of volume 3, and actually make a good team. But Kougaiji's own past keeps the groups enemies, though he isn't happy about who he has to work with, or even really trusts she'll keep her promise to him.
The is a lot of action in these first three volumes, as Sanzo's group has to fight off youkai attacks and assassins sent by Kougaiji. They give the boys lots of opportunities to be glib and toss off one liners. In one chapter, they even rate a youkai assassin on his laugh and even how he falls down. Minekura is also not afraid to be graphic in these scenes. Heads get cut off, or sliced in two, and intestines are seen as torsos are sliced and youkai eat.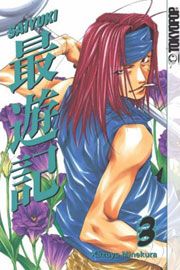 Whether they are in the middle of a fight, or relaxing in an inn after a long ride, they always look good. And I happily admit this is one of the reason I enjoy this series. All of the guys, good or bad are hot. There is lots of long, flowing hair, and bangs that fall over and/or cover eyes. They are all tall, thin, and lithe (mostly), and Minekura dresses them in a modern-ish fantasy style, combining jeans with tunics and sashes. Even Sanzo with his traditional garb looks good when he lets his robes down.
Tokyopop did a really job with this release. The dialog is very readable and catches the personalities of the characters perfectly. The cover is a nice heavy paper stock, and they presevered the original Japanese wraparound cover, and put the back text on the inside of the front. Volume one also features color plates of the four main characters. A lot of time and effort went into these volumes and it really shows.
Saiyuki isn't just one of the first manga I read, it's one of my top favorite titles of all time. The action, comedy, drama and hot guys makes this a title I read and gladly re-read again and again. It's really just a lot of fun, which is exactly how I want my manga to be.