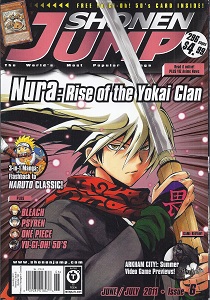 The big but strangly never mentioned news for this issue of Shonen Jump is that it is not long a purely monthly magazine. Subscriptions cards in the mag advertise a yearly subscription as being 10 issues. And you'll notice this issue covers June and July. Of course, nothing is mentioned in the magazine about this change or why. The obvious reason is cost. Cut out 2 issues (this isn't any bigger a normal issue) and save printing costs. If there was any other reasons, Viz isn't saying, since they've said nothing about the change. Maybe they were hoping no one would notice?
The issue starts out with a video game feature, looks at the Nura anime and vol 3 of the manga, Yu-Gi-Oh! 5Ds trading card and strategy and the Reborn anime which has started streaming on Vizanime.com. The manga starts up with Psyren.
Oboro, the famous actor goes on a TV show about Psyren, and nearly feels the wrath of Nemesis Q. He is saved by Elmore Tenjuin, the woman who put up the 500 million to solve the mystery of Psyren. Another player isn't so lucky. Ageha's training contiues to surprising results that Sakurako can't explain, but the call to return to Psyren interrupts them. It's a new batch of new recruits that includes Oboro. Sakurako tries to explain what's going on again, and of course, no one believes her. Oboro decides to see for himself and leads most everyone out except for a kid who decides to stick with Sakurano because she's cute. Outside the group learns that Sakurano wasn't kidding with the appearance of a monsterous sand worm. I really hope we get past the introduction of newbies and explaining things again and again. Let's just get the team that's going to be fighting in Psyren and get this title going!
One Piece finishes the flashback with Luffy, Ace and Sabo. Luffy and Ace learn a hard lesson with Sabo's loss, and both resolve to become pirates and go out to see at 17 and live the lives they want. They continue training to become stronger. Ace learns to care for Luffy and they become real brothers. We see Ace's send off as well as another view of Luffy's. Luffy continues to struggle with his grief until Jimbei gets him thinking about what he still has instead of what he's lost. We see the graves Shanks creates for White Beard and Ace, and Garp comes home to Windmill Village and ends up facing Dadan's wrath. These were more great chapters, as we saw how far Ace's apple DIDN'T fall from the family tree. And I still think Ace is cute, especially with his freckles. The moment that it dawns on Luffy that he still has something to live for is another emotional moment, and just shows again why One Piece continues to be superior to the likes of Bleach and Naruto.
Speaking of Bleach, the battle is set as the Soul Reaper Captains and Seconds stand ready to face Aizen and his Espada army. Back in the Hueco Mundo Ulquiorra waits for Ichigo to come and save Orihime. A fade to black (so to speak) and story goes back in time to 100 years in the past, to see where the seeds of Aizen's plans were planted. There are lots of familiar faces, but not in familiar roles, and the story begins with the promotion of one Kisuke Urahara to the Captain of the 12th Company. While it's nice to get away from the long and drawn out Hueco Mundo arc, I do question the need to put this in now, and how abruptly the story jumps from just about to start the big battle to this more plot heavy arc. I wonder if reader surveys had anything to do with the change.
Yu-Gi-Oh 5Ds continues the duel between Yusei and Jack Atlas. Yusei's having trouble with the duel as he tries to hold on to Sect and his duel runner is coming apart. Jack mocks Yusei's devotion to helping his friend, and because Yusei puts his friend's like first, he loses the match, and we are left wondering if he even survived. But since we already know Yusei has script immunity, we know this isn't the end. And that Jack, and the first antagonist of the series, will have to see the light by the end of the arc, that friends are the best thing to have in a duel.
Naruto shows off his new ability to control the Nine-Tails chakra, and senses Kisame hiding in Killer Bee's sword. Kisame tries to escape and instead has to face Guy, in a rematch. Kisame thinks he's going to win thanks to his ability to absorb chakra, but he's in for a surprise from Guy's fighting style, and is captured instead. While he thought he would gathering intelligence on Naruto and the alliance, he instead is probed and we get a flashback to his life before becoming Akatsuki, but he bites his own touge off rather than betray Madara and the Akatsuki. Naruto's new abilities with the control of the Nine-Tails Chakra is interesting, as it seems he also inherited his father's teleportation ability. More cool and confident Naruto would be a huge welcome to this series. With memories of his parents now, may be we can keep getting more of that and less of the angst.
Online in Nura: Rise of the Yokai Clan, Rikuo has to save Kana from a yokai who promised to come get her on her 13th birthday. He then takes her to a yokai party where she seems to start to fall for Night Rikuo. Then, a new arc is introduced. Now that Rikuo has accepted his position as successor to the Nura Clan, the internal squabbling is mostly over, but a new threat from outside now threatens the Clan. The 88 Demons of Shikoku start to move in on Nura territory, even killing an executive, Hihi. Thinking the Nura clan is an easy target, they go straight for Nurarihyon. I like the sort-of romance starting between Rikuo and Kana, his childhood friend. Kana seems rather jealous of Yuki-Onna when she's with Rikuo, and how she becomes smitten with Night Rikuo isn't too surprising. I've already said I prefer him to day Rikuo anyway. I wonder how much this part of the story will be advanced, or if it will stay in the shadows.
The preview for May/June is for Toriko volume 5. Toriko, Rin, Terry, Sunny and Komatsu get separated as they race to reach Regal Plateau before the GT robots do to get the Regal Mammoth and its jewel meet. Toriko and Rin end up goign north, through the Devil Athletic, while Sunny and Komatsu go south through the Prehistoric March. Terry, the battle wolf that impressed on Toriko is following after Toriko to warn him of more GT Robots who are roaming and killing anything that gets in their way. Sunny guesses what the GT Robots are really up it, and explains to Komatsu (and the reader) the idea of Gourmet Cells, which also explains why Toriko, Rin and Sunny are so powerful. These chapters are mostly either battling or appreciating the strange foods found on the island. Neither activity interests me, so neither do these chapters.
With the reduction of the print issues, I wonder how, or if, it will affect the release of the graphic novels. The issue of costs have me worried. Viz could probably take their whole magazine online, like Nura, but the fact that they have been heavily i*, I'm afraid if they go all digital that that is the format they would go with and not through the browser. I would have to completely drop my Shonen Jump subscription. And I really do like having the magazine to read. It is nice to have some non-screen time.