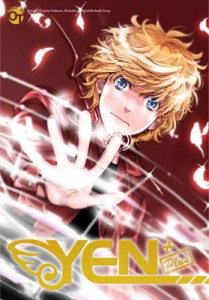 Would you know, just as I decide to start reading Maximum Ride again, it doesn't show up in the magazine this month! But it's absence is made up for with 2 chapters of Witch and Wizard. And then I didn't even notice that Jack Frost wasn't in the magazine last month, but it's back this month with a new chapter not collected into a volume yet in Korea. So, Yen finally caught up to its releases in Korea. I guess it will become more sporatic. That's okay though, since next month starts the serialization of a new adaptation, and it isn't a James Patterson title! Gail Carriger's Soulless, drawn by another former Tokyopop RSoM winner, Ren.
Daniel X – Daniel finally defeats No. 5, but quickly learns there was more to him that just an electric alien catfish. Gathering all of the electronics in Hollingswood and destroying them in a decidedly non-environmental way makes his end final. Then No. 3 shows up to warn Daniel off, but that just makes him think he will definitely be his next target. The end of No. 5 was kind of anti-climatic, and I don't know that I buy this one. No. 6 had a much better end.
Milkyway Hitchhiking – Milkyway's adventures continue at the school from last chapter. She is passing through a forest that is near the dormatory where he runs into Shasha, a human with a cat in him. To everyone around him, Shasha is more cat than human, and this bugs the heck out of Lime, Shasha's classmate. Lime seems to have a bird inside him, and he is constantly pecking at Shasha. Despite this, they share watching a sunrise together and Lime finds he can be friends with Shasha, even though their spirit animals usually can't be. I'm getting the feeling that this title has strayed very far from its stated plot, and now is just a vehile for the artist to tell whatever short stories she wants. Milkyway is just an excuse to use to justify whatever story she's telling.
Witch and Wizard – Whit and Wisty are taken on a tour of the City of Progress, the blueprint of the N.O.'s perfect city. There Wisty is accused by an older woman of being a witch, but Wisty turns the tails on the old woman who DOES turn out to be a witch. She makes eye contact with Wisty before disappearing. Then, the kids learn their parents have been captured and taken to the same place as the children the resistance was planning to break out, so Whit and Wisty join the team. The chapter ends on a cliffhanger for both Whit and Wisty, who split up. The first chapter with the visit to the city seemed pointless since it was so short, but perhaps the meeting of the witch will have some meaning later.
Aron's Absurd Armada – Luthor, who was only following orders to kill Aron finds his own motivation, and reduces Aron's ship to a floating hull. The crew relocates to the island, where it seems like paradise, until the volcano explodes. Running back to the remains of the ship, the crew learns from Aron there was one other crewmember no one knew about. The ghost of the builder of the ship still haunts the ship. I can't help but feel sorry for Ronnie. She tries so hard to tell Robin the truth about herself, and still no one believes she's really a girl. I hope her hair grows back soon. Though with this creator, something worse than burning will happen to it.
Jack Frost – Jack finally catches up to Hansen, who isn't happy with Jack not staying with No-Ah. Jack doesn't seem to have any kind of response when he hears No-Ah has got to the East District except to turn and walk away…to the east. No-Ah and her father are locked up in a room, but Milita at least offers to make them comfortable, which earns her some gratitude from No-Ah. We'll see how that affects her. After all the hype Yen made about this chapter being in the mag, it was actually kind of anti-climatic. It will be back again in the next issue, so we'll see if there was anything to get excited about.
High School of the Dead – Takashi and Rei take a motorcycle to try to get back home. They see the extent of the damage the zombies have done. They find a police car, with its occupants dead, and relieve them of their guns. A stop at a gas station give Takashi an opportunity to bash in the register, and Rei gets some breast sqeezing as a survivor tries to take her and the motorcycle. Takashi uses the gun for the first time, and they leave him to the zombies attracted by the noise. I liked Takashi's reaction to holding a gun for the first time. And Takashi and Rei's argument was a nice break from the zombie tension and showed some actual character development.
The Innocent – While continuing his search for Mira Jones, Johnny learns that the laywer that represented him (and subsequencely lost the case) is now representing Jonas. He decides to help Jonas and promises Angel that he will try not to kill anyone or break the rules while doing it. He then proceeds to break Jonas out of jail. There have been lot of little clues dropped here and there through these first three chapters, but nothing seemst to fit together yet. Hopefully things will start to connect in the next chapter.
K-On! – Instead of going to the beach, the girls go to a music festival in the mountains with tickets provided for by their advisor, for their club trip. Azumi tans immediately, adn the girls see other bands, but get distracted by things like how the band members get their hair to stand up, and left handed players. Afterward, Azumi goes to the pool with Ui and Jun and has to deal with tan lines, while making Jun regret not joining the Pop Music Club with her. At least it wasn't another trip to the beach. And Jun and Ui aren't anywhere as annoying as Yui and Ritsu.
Yotsuba&! – Yotsuba gets to take Fuuka's excersize ball home, and while bouncing it down the hallway, accidentally breaks some dishes. When confronted by her father, she tries to lie about what happened. So her father takes her somewhere that makes her think twice about lying. Putting fear into a child about lying might seem like a good idea, and might even work for a while, but in the long run, I don't believe this is the best way to displine a child.
It's going to be a full plate next issue! Maximum Ride will be back, as will more Jack Frost, and then there's the debut of Soulless. That's going to put the magazine up to 12 titles! It's good to see Yen Press expanding its titles. That's a good sign, right? That things are going well for the digital magazine? I really hope so.