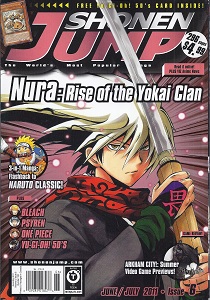 Shonen Jump may not have had a print issue for July, but the online manga had a monthly update just the same.
Nura: Rise of the Yokai Clan picks up with the Shikoku yokai attacking the Clan Overlord Nurarihyon, Rikuo's grandfather, who has been having a nice time with Yura, the Onmyoji. She seems to know of the yokai, Muchi of the Wind, since she is from Kyoto as well. Nurarihyon takes care of Muchi after playing with him, and without revealing himself to Yura. He then leaves to look into something without telling the rest of the clan. Rikuo has a run in with Gyobu Tamazuki the leader of the 88 Shikoku, who declares his intention to set up his own "family" in Nura clan territory. With both Nurarihyon and Muchi missing, both sides assume the wrong thing, but Rikuo takes command of the clan as the Shikoku strike both in town and against the Tochigami, who are not fighters but part of the Nura Clan's power base. As the story moves into this new arc, Nura continues to move closer to becoming a typical shonen battle manga. I'm hoping the yokai angle and the different yokai can keep this title from falling into the doldrums a lot titles that go this route fall into.
We get 4 chapters of the new volume of Bakuman. The boys have got their series in Weekly Shonen Jump. With this move comes changes. Mr. Hattori will no longer be their editor. They are introduced to Mura who takes over, and while Mashiro has some doubts at first, he seems to be enthusiac about helping them. They get assistants and are invited to a New Years party where they meet other manga creators and editors that work at Shonen Jump. Koogy, who didn't get a series tries to pull a cout with Ms. Aoki at Jump SQ, but Mr. Nakai's determination to work with Ms. Aoki finally wins her over. There are some nice moments in these chapters. I'm glad Nizuma is turning out not to be a villain, just more of a rival. Koogy plays that role much better.
Next month is back to business as usual. Toriko should be back with more preview chapters, as well as the next four chapters of Nura: Rise of the Yokai Clan, finishing up Volume 4 just in time for its release in August.