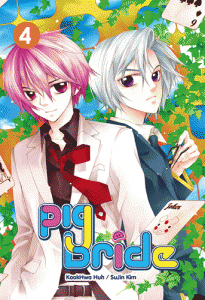 Like a lot of people, I can't keep up with all the titles I want to read, so some have to fall back and wait to be caught up on. Usually this isn't a big deal. If it's a recent series, within the last two years or so, and the publisher hasn't gone under, or lost the license, catching up is usually as easy as getting online to Amazon or some other online retailer and ordering the missing volumes. In trying to do this though, I've run into some stumbling blocks, and it is absolutely perplexing to me as to why.
Last August, Rightstuf had a sale of being able to order manga from any publisher. Cool, I thought. I could catch up on a range of titles, instead of concentrating on one pub. I went through, clicking the ones I wanted most, mostly to complete titles that had ended, but that I had missing one or two along the way. One of those titles was Pig Bride volume 4. I had volumes 1-3 and 5, and I didn't want to read volume 5 until I had volume 4. So, I tried to order it. It was put on back order, and after about a month or so, the backorder was canceled. So I then decided to see if Amazon had it. No luck there either. Volume 4's page shows the book only available from Marketplace sellers. "WTH" was now the thought going through my mind. An inquiry about this volume to Yen Press' Twitter account got me this:
**cricket** **cricket**
Not too long ago, Rightstuf had a Yen Press sale, and I needed a few books, so I tried looking for Pig Bride volume 4 again. The link for volume 4 is now gone from Rightstuf's website. So I asked again on Twitter, this time to both Rightstuf (Animetoday) and Yen Press. Rightstuf responded with:
If Pig Bride v4 – or any other title isn't listed – that means it's not available fr publisher, w/ no ETA on reprint. 🙁
Yen Press responded with:
**cricket** **cricket**
So I'm back to asking, what is the deal? Why is that I can get volumes 1, 2, 3 and 5 of Pig Bride and not volume 4? Was there some problem with volume 4 that took it out of print. I mean, with no ETA for reprint, the volume may as well be OOP.  The volume came out in April of last year. It hadn't even been 6 months when I tried to buy it. What's the point of making the rest of the series available if there's no chance of completing it? I can buy it from Marketplace sellers, and that's probably what I'll end up doing, but my point is I shouldn't have to. OOP after 4 months?  Really?? And even their supply won't last forever. But what I really want to know is why has Yen Press/Hachette made this ONE volume unavailable to purchase?
Are there any recent volumes of a title that should be in print that you can't get either? Rant with me here!