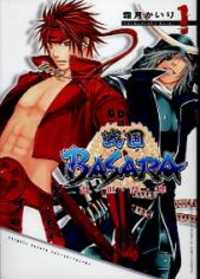 It was just a throwaway line in an Anime News Network post about Udon Entertainment's panel at SDCC this year:
Udon will also publish a two-volume manga for Sengoku Basara.
Sound familiar? Well, it should. Udon made this same announcement a few yeas ago, to the point of having it scheduled for release on Amazon and ther sites, only to have the deal fall through. But I think this re-license is a good thing. Sengoku Basara is now known outside of video game circles, which was its introduction in the US. Funimation has licensed and released both seasons of the anime, and a new movie coming out this year in Japan will only keep it alive in the eyes of fans. So now is a good time to release the manga. The only question becomes, which manga? There are now three; Sengoku Basara: Ranse Ranbu, which is based on the original game and ran 3 volumes. Sengoku Basara 2 is direct sequel and ran 4 volumes, and then Sengoku Basara 3: Roar of Dragon and ran 2 volumes. There was also a series that was based on the anime and ran for 3 volumes.
While the anime version is the one I'd like to see most (despite the track record of anime-to-manga titles), this is probably not the title mentioned in the article. Roar of Dragon fits the required number of volumes, it's also a Shueisha title, from Jump SQ. I find it very unlikely that Udon would have been able to license it. So it's most likely that its the originally licensed Ranse Ranbu. While it doesn't have the over-the-top action and zaniness of the anime, I will still check it out. If we show the series to be popular enough, maybe we can get the rest, including the anime adaptation, if Shuiesha/Viz is willing.