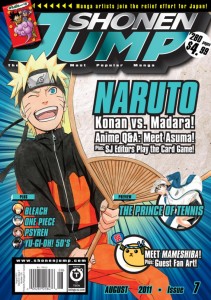 It's back to the monthly business as usual with August's Shonen Jump. Since this issue came out before SDCC, it doesn't have any of the news from the con, and nothing new was added from its month off. Not that really expected there to be any. Anyway, on to the issue! Neuro ended this month on vizanime.com and you can now divine your horoscope with Yu-Gi-Oh! 5Ds cards, and probably as accurately as Weird Al Yankovic. Now on to the manga!
Yu-Gi-Oh 5Ds introduces a new character, Akiza Izinski, the "Queen of Queens" of duel racing. We get to see her in action before jumping to Yusei and Sect in a clinic on Satellite. Angry at his loss to Atlus, Yusei is presented with an invitation to the D1 Grand Prix where he has a chance of a rematch with Atlus. And it seems Akiza has a grudge to settle with Atlus as well. Even as the introductions continue, the manga is moving to the heart of the story, racing and dueling. This title was declared a Worst manga at the SDCC Best/Worst of manga panel, which I think is totally undeserved. 5Ds is far from the worst manga, or even the worst Yu-Gi-Oh! we've seen so far. I think GX gets that honor.
One Piece has Rayleigh showing up on Amazon Lily, where he's apparently on good terms with the women. He come in search of Luffy with a proposition and some advice. Meanwhile, the rest of the Straw Hats has all learned of Ace's death and are now searching for a way to get back to their Captain and we get to see their predicaments beyond the chapter openers that kept us up to date during the Impel Down and Paramount War arcs. The Thousand Sunny is being protected at the Sabaody Archipelago by Shakky and her allies. More perplexing, is something that Luffy seems to have put in the newspaper that gets confused looks from old friends and allies. Of course the chapters end without telling us what it is. It's good to see Luffy's desire to live return as he dives into the food Hancock brought him. Jimbei tells him to eat is to live, and Luffy starts to dive in like the Luffy of old. So we only get chapters, not volumes of grieving Luffy.
Bleach continues its tale of the past with Urahara as captain of the 10th company. These chapters introduce Kurotsuchi and the creation of the Research and Development Department. A young Byakuya and his grandfather is shown as well as his competition with Yourichi. Gin Ichimaru is also introduced as a new addition to Aizen's company and the Ninth company launches an investigation into some disappearances where their konpaku seemed unable to maintain their form, leaving only clothes behind. What these chapters show is that both Gin and Aizen were always cruel, Byakuya was once not so cold, and the assistant captain on the 9th company was the most annoying character ever. At least this arc seems to be actually going somewhere, unlike the Heuco Mundo arc.
Psyren has Ageha, Sakurako, and Hiryu trying to save the newbies from the giant sand worm. They rescue Oboro, some of the others are eaten, while the rest are shot by a new player that Sakurako calls a Blaster. He also appears to be the friend Hiryu has been looking for, but it's not the reunion he imagined. Oboro and kabuto come down with their fevers while they are still trying to get to the exit. Sakurako takes on the Blaster and sets to look into his mind leaving Hiryu and Ageha to protect the other two. This stint in Psyren is lasting longer than the previous, and psychic powers are appearing a lot faster, so this is looking like these five will be a team. I'm really curious to find out about the Blaster, and why he's working against the drifters.
Kisame has one more trick up his sleeve in Naruto, which does finally end him, but his intel gets out as well. Konan faces Madara, determined to end him, but things don't go exactly as planned for her either, though she does inflict a lot of damage. And even through Madara wins the battle he still loses. We learn more about Madara and what he thinks of himself, which is apparently a lot. The dichotomy of Naruto and Sasake is going to have to shift as Madara is proving to be the real threat, and he doesn't seem to have Sasake under his complete control just yet. But on the other hand, I don't see Sasake coming to anyone's aid as he is now. It's still a wait and see game here.
The manga preview goes to Prince of Tennis, whose final volume just came out. It's only half a chapter that pits Ryoma against Seiichi in the final match to decide to National Title. This preview is really a disappointment as it throws you into a match already in progress with little to go on. It's a very dramatic part of the volume and cuts off at a critical moment, it's really not enough to get me to want to read it. And with what is shown, it looks so ridiculous that I wouldn't want to pick it up. This is probably one reason why sports manga hasn't take off in the US. I don't mind seeing these kinds of powers in fantasy/action titles. I just don't for them in sports titles.
Online, Nura: Rise of the Yokai Clan sees the Shikoku start their attack on the Tochigami by Lord Sodemogi. When Rikuo's friend Torie is attacked and cursed by him, Rikuo joins the search for him, but it is Kurobado who finds and stops him. Rikuo becomes the next target while he is human, at school Inugami, who is very loyal to Tamazuki, poses as a student to get at him. But when he sees Rikuo getting the attention and respect he wanted, he looses control and attacks during a school assembly. I really liked Senba, the tochigami at the hospital where Torie's grandmother is. His power to use the 1000 cranes to makes wishes come true is pretty cool. I can't say I'm thrilled with the Yakuza-like power struggle that going on now. It is different for a shonen title, but I just don't care for these kinds of stories.
I was really hoping for more manga announcements from Viz at SDCC. Actually I wanted to hear they had licensed the Neuro manga. I guess I'll have to hope for NYCC/NYAF.