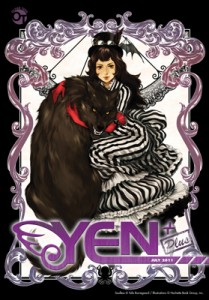 This month's Yen Plus features a lot of changes. The most obvious, as it's features on the cover is the debut of Soulless, another novel adaptation, but not by James Patterson. This one is by Gail Carriger with art by Rem. But with this addition, two other titles are saying farewell. Gossip Girl ends this issue as does the color edition of High School of the Dead. I'm not going to miss Gossip Girl, as I wasn't even reading it. But High School of the Dead…well, I'll give my feelings about that later. And you might notice  something missing from this issue. No Daniel X. And no word why. Strange…
Soulless – This first chapter starts with some very nice color pages, as we are introduced to Alexia Tarabotti. She is at a party when she is attacked by a vampire, that doesn't appear to be part of a coven, and has a run in with Lord Maccon, the head of Bureau of Unnatural Registry as well as Alpha of the local werewolf pack, and Professor Lyall. Her encounter seems to have attracted the attention of Countess Nadasdy, the leader of a vampire coven, so she goes to see Lord Akeldama, another vampire that she is on good terms with, for advice. I really enjoyed this first chapter, and absolutely love Alexia. I'm coming to appreciate stories set in Victoria London, and Rem's art is a sight to behold. I think I have found my new favorite series!
Milkyway Hitchhiking – This chapter switches gears again, as Milkyway tells the tale of another "master" of hers. A cruel king is sending hunters out to bring back a creature with white fur. If they fail, they are killed. A new hunter is dispatched, a woman named Robin. But the creature turns out to be something Robin didn't expect. Her perceived failure as seen by the King's sorcerers makes the King decide to do the job himself. One again, Milkyway is ancillary to the story, acting more as narrator than wish-granter. This story is at least a two parter, so we'll have to wait until next month to see where it goes.
Witch and Wizard – Whit gets the gang out of the jam the chapter ended on last month, and Wisty frees all the children in detention. A traitor is revealed in the resistance, but Whit and Wisty join their powers to defeat the warden and guards. The One Who Is The One then appears and taunts Whit with six prophecies supposedly about them before disappearing. I liked the action scenes with Whit and Wisty working together, and realizing it's the adults who are scared of the children, and more importantly, of change. I still don't like TOWITO. Not capturing or killing them now doesn't make him a little good or grey. He's still the villain.
Aron's Absurd Armada – Aron and his crew return to port to exact revenge on Luthor and instead decide to go after the Crown of the Ant Queen. It was taken by Luthor as a gift for the King's birthday, so they decide to the backway through some difficult mountains. Meanwhile we learn more about Aron's parents and their relation to the Nelson family. While Aron and Luthor might have been friends, it obvious that his mother and Nelson is not. And like the rest of the cast, the King is just as odd.
Maximum Ride – The Flock is heading west, away from Itex, but there doesn't seem to be anyone following them. An eerie sense of foreboding starts to settle over Max as rumors of a disaster coming starts to seem more real. Fang receives a message that one of the Flock is a traitor. They decide to go to a public place, a football game to see if they can draw their enemies out. They get spotted by members in the crowd, but still no Erasers. It really feels like we're reading the climax of the story, as the impending doom seems to come ever closer. I am looking forward to see what that is.
Jack Frost – No-Ah is confronted by the new Iyel about emotion, and Siegfred is preparing to move out. Camilla has a plan as well, sending off her "pieces" to the Pillar of Solomon. Meanwhile, inside the Pillar, we are introduced to Beelzebub, another busty woman, and her master Solomon himself. Still not much going on, and really, I'm not feeling any anticipation for what's probably supposed to be a big fit. I really wasn't impressed with Beelzebub stripping and prostrating herself in front of Solomon either.
Highschool of the Dead – This final preview chapter starts at the airport where unaffected people are trying to escape, and sniper Rika Minami is clearing a path for the planes to take off. Meanwhile, Saeko, Saya, Kouta, and Shizuka decide to leave the school van and meet up with Takashi and Rei, who are trying to reach one of the bridges to cross into town, but the military has them all blocked off. They meet up with their friends, and Shizuka tells them she knows a place nearby where they can stay, as it's getting close to nightfall. While all of the fanservice is really annoying, I can't help but be interested in Takashi's narration, as he talks about how this zombie apocalypse is changing him and his friends. And while the color is nice, if I continue to follow this series, it'll be in the black and white.
The Innocent – Johnny is helping Joshua find his sister, and takes him to where women are trafficked. They don't find her, but Johnny's powers continue to grow, and he is able to speak to the man responsible for his sister's injuries, Frame. Johnny continues to skirt the rules, making his point without actually hurting anyone. He finally figures out where Joshua's sister is, but Frame has sent to Whirl to the lawyer Rain, and he gets there first. I'm still finding this series to be interesting, but not engaging. It seems to be devolving into a typical action title, but the mysteries of Whirl and Angel, and why Johnny can keep doing things he's not supposed to keeps me reading.
K-On! – The chapter of K-on! isn't the usual 4-koma, but typical manga chapter. The girls take a break from practice, and Ritsu and Mio's past is revealed. It's not a bad story, and if K-On! had been more like this, I might have liked it more. I'm finding I'm not fond of the 4-koma format.
Yotsuba&! – Yotsuba tags along with Ena to Miura's house, which is in a tall apartment building. In the elevator Yotsuba tries to press all the buttons, but Ena warns her off. At Miura's home, they see Miura's picks from her trip to Hawaii, and trade souvenirs, but then Yotsuba makes a most surprising discovery in Miura's room. The scene in the elevator was cute.
Next month, the mag stays down one story, but Gossip Girl keeps going with a bonus chapter. Hopefully that really will be the last! And there's no Daniel X scheduled next issue either. Hopefully, there will be some word on it next issue. It is the Patterson book I like the most, though I think I'm in the minority. But, what else is new?