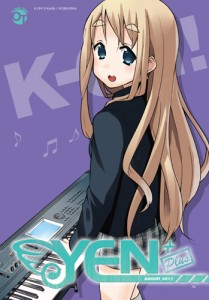 It was always my intention that my reviews of the chapters from the magazines were to be short, but I haven't done a very good job of that, so starting this month, I'm going to try to be much more brief about my impressions of the chapters. There's no Daniel X again this month, the final Gossip Girl, a side story, appears. But you don't want to hear about that, right?
Soulless leads out the magazine with another great chapter. Watching Alexia use her feminine wiles on Maccone was quite humorous, as was the meeting with Countess Nadsady of the Westminster Hive. I do so enjoy the proprieties of Victorian England. And Maccone's Anubis form was quite dashing I thought… Milkyway Hitchhiking continues the story of "The Creature of White Fur". I hope Milkyway and her powers come into play sometime soon. I'm not really looking forward to another tragic story as this one seems to be playing out to be… This chapter of Witch and Wizard brings the story around full circle, and is the ending for the first novel. I really hope Byron's apology is for real, but I can't help feeling it isn't even though everything points to it being so. It will be interesting to see where the next chapter, and next book goes from here.
Aron's idiocy continues to prevail in these strips of Aron's Absurd Armada. I love his short attention span as he is as quick to want to join the Mountain bandits who capture them, as he is to change back. And I loved the knights who were sent by the King to save them, without knowing who they were saving. I couldn't help but feel sorry for them… Maximum Ride is still a new addition to my reading, but it's definitely a much more exciting part of the story. The voice in Max's head is intriguing, and while I'm not much of a romance fan, I do hope we get to see something more of Max and Fang's relationship. It's classic "best friends in denial", but I kinda like it… Jack Frost is more mindless fighting, that has another chapter ending without actually doing anything. Id' say Jack Frost doesn't do so well in serial form, except that novel form isn't much better.
K-On is staying on the path of cute girls doing cute things. I guess I've become numb to it now since I didn't find these strips to be so bad. Maybe it's the thought that will be ending so… It's the return of Danbo the cardboard robot in Yotsuba&!. I suppose if I knew the history behind Danbo and why the girls had hidden him in  the first place, I might care. I did like how the kids at the playground were impressed by Danbo though. That was cute… The Innocent is leading up to the finally confrontation between Johhny/Ash and Frame. I did like some of the emotional moments that were revealed in between the fighting from Angel and Johnny. I was glad to see Johnny get the upper hand on Whirl too.
Next issue sees the return of Daniel X and the start of a new book. There doesn't seem to be any other changes coming up, at least not from the Next Issue page or the Editor's Letter which was just about SDCC and the end of Gossip Girl. I wonder what/if they have something planned for the Japanese side? Square Enix would be better off letting Yen Press handle their online distribution since their site is so badly put together.