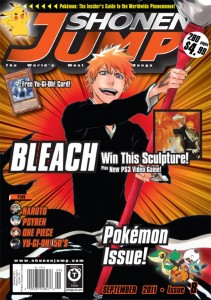 This month's Shonen Jump starts out with a Feature on Pokemon: Black and White, the newest incarnation of the game and spans the trading card game, the video games, the anime and the manga. The fan art section also has a neat piece by guest artist Mr. Warburton, the creator of Cartoon Network's Codename: Kids Next Door. But where's Nami?
The manga jumps right in to Yu-Gi-Oh! 5Ds. It's interesting that the stranger that offers Yusei a chance at the D1 Grand Prix seems to know right where to get Yusei interested, and it's not money or power. The shonen-ess of the story really shows in this chapter as Yusei realizes how much strength he's going to need to really compete. And in typical shonen fashion, the challenge excites him… I don't really have a lot to say about Bleach. It's more waiting for the revelation about Aizen, as well as the first seeds for the Vizards are planted, with the only real question being, who came up with them first? In One Piece, the contents of Luffy's message is revealed and analysed by several groups, but it's only the Straw Hat crew that seems to understand it. They all turn around and dig in to try and become stronger, all for Luffy's sake. The flashbacks with a lot of them were nice, as they show how Luffy was there for them, and now they want to return the favor. The glimpses of the New World are funny and intriguing as well. I really like the island that rains lightning…
In Psyren, I knew I liked Ageha from the beginning, and these chapters show why. He keeps out of Amamiya's way while she fights and Tatsuo, even though he wants to help her so much. He knows his strengths and weaknesses and plays to them. Oboro recognizes this, and yet when he's told to hold back, he doesn't. He is a bit annoying. These chapters also show why Hiryu's powers manifest as as dragon, and it's not his name… Naruto's opening chapter really should have run in last issue. It is the final chapter in Konan's battle with Madara, but it looses it's emotional impact by having a month go by inbetween. It is a bittersweet scene though. The secret of the island Naruto and Killer Bee are sent to is cool, but Kabuto has gotten really annoying. I also like how serious Naruto is taking his "S-Ranked" mission…
Online, the chapters of Nura: Rise of the Yokai Clan are all about Inugami. I can't help feeling sorry for Inugami, after being manipulated by Tamazuki into becoming an Inugami and  used to only be thrown away when he fails to kill Rikuo. Rikuo and Tamazuki finally meet face to face (so to speak) in their yokai form, and we learn what Tamazuki really is… The extended preview of Bakuman volume 6 has the boys in a real pickle. I can't believe though how clueless Saiko is to Miho's feelings. He is so focused on their promise that he just can't see that she's not happy with the arrangment anymore. She is just too patient with him. I suppose it's all part of her being the "perfect girl".
There's nothing new or exciting coming up next month. Online, there should be a new extended preview of Toriko. It's been a while since it's had any kind of update. I guess its release schedule has slowed down, at least compared to Bakuman.