The Bakertown High School cheerleading squad has a secret: behind all their pretty make-up and short skirts are five hungry vampires who sure know how to show their school spirit!
When one of their own turns up missing, the senior cheerleaders have no other choice but to induct one of the eleventh grade girls from the B Squad into their vixenous ranks. But siring new recruit Heather Hartley is the easy part…keeping a sheltered virgin from not going wild and draining the entire football team on the eve of their big homecoming game is another matter!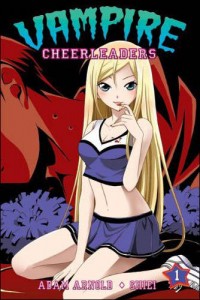 Written by Adam Arnold; Art by Shiei and Comipa
Publisher: Seven Seas Entertainment
Age Rating: Older Teen
Genre: Comedy
Price: $10.99
I like Seven Seas Entertainment. Really, I do. They have a nice mix of original and licensed titles, with a very eclectic selection of genres. Sadly though, I didn't like one of their biggest hits, AOI House. So I didn't have high hopes for Vampire Cheerleaders when it was announced, but I was looking forward to Paranormal Mystery Squad. Boy, did I get those turned around.
Vampire Cheerleaders is just as cliché as it sounds. Good girl Heather is invited to join the 'A' cheerleading squad after one of its members goes missing. Once "initiated" into their coven, she goes wild with her new power and ends up draining the football team just before the big homecoming game, and the girls have to figure out a way to keep their team from losing.
Even though everything about the characters is cliché, from Heather's strict parents, to Heather's transformation from goody-two shoes to vamp, to all the clique-y in-fighting between the girls, to even the geeky best friend who knows the cheerleaders are vampires and get pushed by the wayside once Heather becomes popular, the story is mildly amusing. The characters are varied enough to be interesting. While I don't generally like stories about popular clique girls, these girls were engaging enough to keep me from getting bored.
I was even intrigued by the coven's leader Lori's past (and not just because we share a name, though, she does spell it right) and her need to keep coming back to the school and have a "perfect senior year". There seems to be something there. The art is nice and clean and the character designs are well done. I wouldn't mind reading another story from this series.
Rating:





Paranormal Mystery Squad is a whole 'nother story.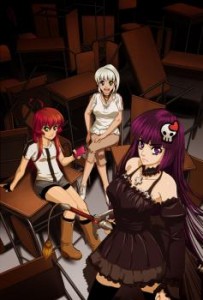 Double-featuring with Vampire Cheerleaders is Paranormal Mystery Squad, written by Adam Arnold with art by Comipa, in a ghostbusting Aoi House spin-off.
Goth girl Stephanie Kane always thought she was special; that there was something different about her. It turns out that she's the most normal person out there and everyone else around her is some kind of paranormal freak! Seriously: her sister is a werewolf, her best friend is a witch, and her next door neighbor is a dhampir. Together, this motley crew of unlikely friends travel the country in their trusty Winnebago in search of cryptids and all manner of supernatural beasties!
With a title like "Paranormal Mystery Squad", I was hoping there would be some really mystery and at least interesting paranormal activity. I got neither. Instead I got characters that are completely unlikable, and a story that drags on and goes no where. There is absolutely no character in this story that I can find even tolerable. Stephanie and Katie are unpleasant and spiteful, the very definition of the word "bitch." I just grew to hate them the more I read. And what I was reading was boring at best, and insulting at worst. About half way through, I kept hoping the story was over, but it just kept going. I think all the parts about women and their menstruation were supposed to be funny, but it really wasn't. Even the title gets into the act. It's exactly this kind of crude humor that I disliked in AOI House. I should get combat pay for making it to the end.
The art in this story was rough and uneven. Overall, the story a few (very few) decent moments. I did like the Ghostbusters reference, but it's just not something I can recommend in good conscience. You couldn't pay me to read another story in this series, which leaves me in a conundrum. How do I read the next Vampire Cheerleaders without supporting Paranormal Mystery Squad? Digital versions of the titles sold separately please, Seven Seas!
Rating: