It's Ryuji's first day as a junior in high school and it seems as if things are looking up. He gets to sit in between his only friend, Yusaku, and, more importantly, the girl he's secretly crushing on, Minori Kushieda. But just when he thinks the stars are aligned in his favor, he unwittingly crosses the most feared girl in school, Taiga Aisaku, making her onto his arch enemy. To top it off, Taiga has moved in right next door to Ryuji and happens to be Minori's best friend! Can this school year possibly get any worse?!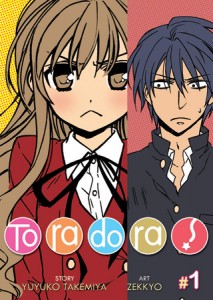 Story by Yuyuko Takemiya; Art by Zekkyo
Publisher: Seven Seas Entertainment
Age Rating: Teen
Genre: Romantic Comedy
Price: $12.99
Rating:





Toradora, like most romantic comedies, depends on its lead characters to sell the series. If you don't like the leads, you aren't going to care who they get together with, or if they get together at all! Unfortunately, that's exactly how I feel about the leads and this story.
Toradora starts out by introducing Ryuuji Takasu. He's a second year high school student who has squinty eyes that makes all of his peers think he's glaring at them, and a flaky mother who couldn't take care of herself if she were on her own. He has an accidental run-in with Taiga Aisaku, the "palmtop tiger", called that because of her small size and fierce attitude. These two become entangled because they have crushes on each other's best friends. But Taiga won't let Ryuuji near Minori until she can get with Yusaku. So it's hair-brained schemes and missed opportunities as Ryuuji tries to get Taiga and Yusaku together.
Right from the start, I didn't like Taiga. I don't mind the "tsundere" type, but she goes to an extreme that I don't like. She is physically and verbally abusive to Ryuuji, calling him a "dog," or "mangy mutt." She's pushy and demanding and a serious clutz. I know these traits are supposed to be funny and cute, but they really aren't. Not to me anyway. Ryuuji isn't a complete push-over. He takes on Taiga's unspoken challenge to get her and Yusaku so he can try to get Minori, but he takes on the "dog" role too quickly for my taste. The banter between them just isn't interesting. It's either her telling him what to do, or him yelling at her and she ignores him. These two just didn't appeal to me.
There's nothing new or different about the story. As a rom-com, it has to really on the characters to give it life, and as I've said, they don't work for me, so the story really fell flat. I didn't find any of the physical comedy funny, especially Taiga clutzy moments. But Ryuuji's reaction to Taiga's kitchen did get a smile out of me. I have no complaints about the story, it's just, without interesting characters it feels "been there, done that."
Zekkyo's art is very well done. Even if I didn't like the characters, I did like their designs. There's a good mixture of designs among the characters, and their attitudes really come through in the art. From Ryuuji's squinty eyes, which I personally didn't see as troublesome, but that just me, to Taiga switching from cute and vunerable to a mean and determined, there was no ambiguity about what anyone was feeling. I really could have done without Ryuuji's mom. Her only purpose seems to be for fanservice, which along with her ditzy personality makes her very unappealing to me.
Overall, Toradora isn't a bad title, it just got a "meh" reaction from me. Without liking the characters, I just can't get into the story. I know I'm in the minority with regards to my opinion about this title, but that's nothing new. I may give it another volume to see if anything changes, but as it stands, it's a series I'm not going to follow regularly.